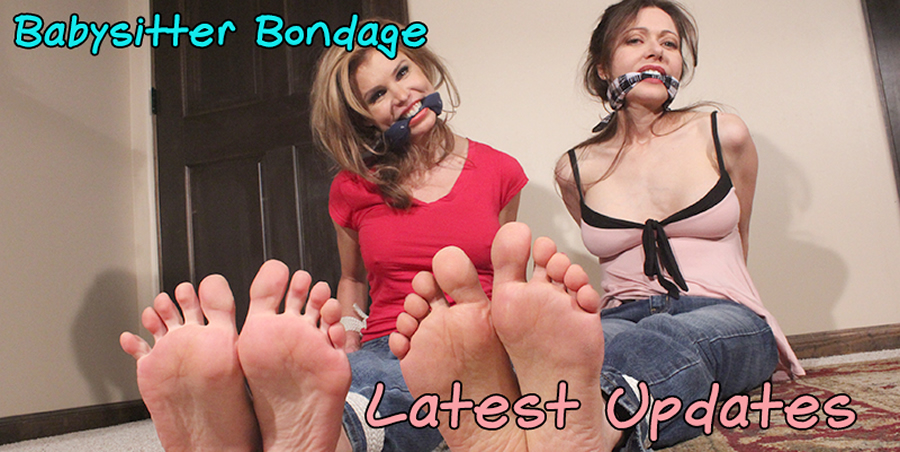 December 30, 2020

Natasha Flade Cajoles Her Stepson Into Making Ransom Tapes for Dad!
(FULL HD – 10:00 min)

December 30 -- (FULL HD - 10:10 MINUTES) Step-mom Natasha Flade and her husband, Isaac W., are enjoying a bit of bondage fun before he leaves for a six-week business trip. Natasha is naked on the bed, hands tied behind her and cleave gagged with a thin scarf. Her husband is fondling and kissing her tits, which Natasha is enjoying. Then an idea hits Isaac! He wants to have Natasha send him some photos of her all bound and gagged while he's away. Natasha likes the idea, but how would she do it? They decide to get Isaac's boy, Johnny, to unwittingly accomplish the task. Natasha will suggest to her stepson a tie-up game called "ransom" and then get him to take some photos of her to text to his dad. Little Johnny will think that sending the photos is just part of the game. Brilliant!

The next day, Natasha is sitting on a chair, barefoot and in her red robe. When her stepson comes in looking bored, Natasha suggests they play a game where he has her chair-tied and gagged because she's being held for hostage. Natasha hands John some rope and gives instructions on how to use them. So now John has his stepmom Natasha chair-tied barefoot in her robe. But she can still call out for help! Not good! Natasha tells John to go find something to gag her with. She sits there, laughing and smiling, until the boy returns with a knotted bandanna. It's tied between her lips for a knotted cleave gag. She tells John to take some ransom pics with his phone. Then she gets a great idea to make ransom video, too! Oh, the boy's dad is gonna love this!

Natasha plays up her damsel in distress part well, gag talking right into the camera and begging for the ransom to please be paid. It all goes off without a hitch! Little Johnny runs off to text the ransom video and photos to his dad while his stepmom sits there, chairtied and knotted cleave-gagged, smiling and laughing about it all. But the secret is that Natasha loves bondage anyway, so everyone is happy! Johnny returns after sending the bondage video and photos. He tells his stepmom that he likes this new game a lot! He asks if they can play this game again tomorrow! Natasha is more than happy to comply! She tells him is muffled (and sexy!) gag talk that she'd like to play tie-up games as much as he wants! Looks like Johnny's dad might be getting bondage video sent to him every day for the whole six weeks! He'll love that!
| | |
| --- | --- |
| December 24, 2020 | Barefoot Mom Natasha Flade Tied Up While Asleep Playing Son's "Sleepy Bomb" Game! (FULL HD – 10:10 min) |

December 24 -- (FULL HD - 10:10 MINUTES) Your barefoot mom Natasha Flade is sitting on the floor in her jeans and a sexy top. You approach her and ask to play a little game. "What's that you have there? A sleepy bomb?!" your mom asks, laughing. But she goes along and when your "bomb" goes off, she pretends to feel woozy until she falls right over, fast asleep! Here's your big opportunity! You can get your mom all tied-up while asleep! You grab her arms and pull them behind her back to tie her wrists together! Although she's pretending to be asleep, Natasha pops her head up when she feels the ropes. "What are you doing back there? Was this just a trick so you could tie me up?!" But since she's really cool, Natasha relents and goes back to pretending she's sleeping. Her bare feet are tied together next, her lovely soles pointing out right at you!

But then your mom slowly awakens, acting all confused as what happened and how she got roped up like this! She starts calling out for help, pretending she's a real damsel. Another opportunity for you! You use it as an excuse to gag your mom! Now Natasha isn't so sure about this gagging part of your tie-up game, but she agrees anyway -- and now you have your mom cleave-gagged, too! She says to you in gag talk "Pretty sneaky! Tricking me just so you get me tied and gagged!"

Your mom is on to you, but you don't care -- she looks so great bound barefoot on the floor in her jeans. And her gag talking while she's cleave-gagged, that just puts you right over the edge! She puts on a perfect damsel in distress show for your entertainment - struggling, mmphing and rolling all about, with lots of great closeups of her bare feet and soles. Then Natasha adds some of her own fun to the game! "I have to get out of here before that bad robber comes back," she exclaims. She manages to get to your feet and looking cautiously about, starting hopping! She hops right out to the front door to make her bondage escape!
| | |
| --- | --- |
| December 17, 2020 | Babysitter Star Nine Post-Bound in Dress & Heels Playing Cowboys 'n Indians Game! (FULL HD – 10:18 min) |

December 17 -- (FULL HD - 10:18 MINUTES) Babysitter Star Nine is reading on the bed in her sundress and heels when the kid she's watching asks to play a game called Cowboys 'n Indians. She figured it was going to be that since she knows it's his favorite! "You want to tie me up?" she asks. YES, you do! Star smiles and agrees to let herself be tied up for your tie-up game. She jumps off the bed and stands up against the tall bedpost. "Is this how you want me?" she asks. Oh yes, it is! Star crosses her hands behind the bedpost so they can be tied there.

We cut to our lovely blonde sitter now post-bound with lots of rope, tied up standing in her cute dress and heels. She plays along happily with the game, even when she's asked if you can gag her, too. "You want to gag me, too?" YES, you do! "I don't know," Star teases. "I didn't agree to that. That's not part of this game!" But she relents and now your pretty, blonde nanny is OTM gagged with a bandanna! Oh my! She looks amazing like that! Star wriggles all around tied up to that post. She mmpphs and calls out for help from behind her gag. She's doing a great job at playing the helpless damsel waiting for some brave cowboy to come and rescue her!

But before someone saves her, you decide to upgrade her gag. Now Star's cleave-gagged, and she's not too happy about that! She feels this cowboys and indians game has gone on long enough and she emphatically gag talks in an effort to entice her charge to let her go now. "Get back here, you little brat!" Star calls out from behind the cleave gag. "Time's up!" But the little guy doesn't listen. He just loves having his beautiful babysitter all tied up! He thinks he'll just leave her like that and take his chances that Star agrees to play again!
| | |
| --- | --- |
| December 8, 2020 | Tutor Natasha Flade Plays ToeTied Bondage Escape Challenge with Her Student in Jeans & Tight Turtleneck! (FULL HD – 17:10 min) |

December 9 -- (FULL HD - 17:10 MINUTES) Natasha Flade is your private tutor and you've been itching to get your hot teacher all tied up ever since your parents hired her! She's sitting in front of you on the sofa in her jeans, white socks, and a really tight turtleneck sweater that makes her tits look even more huge! You have your plan in mind as you listen to the her give you today's lesson. You say you'd like to bargain for a reward: if you ace this practice test Miss Flade has given you, you get to play a game called "Escape." The deal is made: 15 minutes to escape and if she can't, you get a whole week off from private lessons! Of course, it's really all a ruse to fulfill your dream of tying up your tutor. Being a good sport, she goes along and places her socked feet up on the coffee table so that you can bind her ankles with rope. She obeys when you ask her to cross her hands behind her back to be tied. Now you have your hot teacher bound hand and foot, with chest ropes, too! Your young boy's mind is blown away seeing her tied up like this!

But there's more! You have a foot fetish and you're dying to see Natasha's bare soles! Now's your chance! You reach out and pull her white socks off, then tie her big toes together with string! Natasha is incredulous. Why on Earth have you tied her big toes together AND where did you learn how to do such things?! Next you dangle a large, knotted silk scarf in front. She resists, insisting that she never agreed to any gagging, but eventually she relents. "I've never been gagged before. It might even be fun!" Your teacher is cleave gagged (on-screen!) with the pink, silk scarf. Now you have your sexy tutor tied up barefoot and knotte cleave gagged - and with her toes tied, too!

The timer is set for 15 minutes. You watch as Natasha begins struggling in her escape attempts. And she's REALL incessant with the gag talk! You really like that, though! Maybe not as much as watching her wiggle her bare feet all around, her tied toes enticing you. At the end, Natasha claims she's going to get away one way or another. She manages to get to her feet and, laughing that "she wins," she hops away! As she's hopping out of the room and down the hall, she proclaims (in more gagtalk) that this is her "escape!" As she's hopping away, she teases you that she's won your bondage escape challenge game. OH MY! Who cares if she thinks she won. You're too entranced at what a sight she makes! OUTTAKES AND BLOOPER INCLUDED!
| | |
| --- | --- |
| December 3, 2020 | Babysitter Quimm Anaheim Plays Hide 'n Seek! Gets Chair-Tied Barefoot & Blindfolded in the Closet! (FULL HD – 9 min) |

(FULL HD - 9 MINUTES) Babysitter Quimm Anaheim agrees to play a game of Hide 'n Go Seek while babysitting. She's barefoot in the walk-in closet in her miniskirt and top when the kid she's watching ask Quimm to blindfold herself before she starts counting. Quimm is cool with that. She puts the large, black blindfold over her eyes and begins her countdown. Suddenly, her hands are held behind her back and tied tightly behind a chair! The boys are tying her up! Quimm reluctantly goes along and ends up very thoroughly tied to that chair!

Then Quimm is left alone, chair-tied barefoot and blindfolded in the closet. She starts calling for the boys to return and let her go. They finally do come back, but when they do, they don't let poor Quimm go. Instead, she gets cleave gagged! Now Quimm is really angry and starts yelling and threatening in gag talk to get back over here right now and untie her from this chair! Enough is enough! The boys finally come back again but this time Quimm decides to cut a deal: she promises, in gag talk, to play their little tie-up game every time she babysits, but only if they let her go for now. But the boys just laugh at their tied up babysitter and take off again! Quimm is left all alone again – bound, gagged and blindfolded in the closet! She shouts and fumes, struggling angrily. Those naughty boys had better watch out if their babysitter does manage to get free!
| | |
| --- | --- |
| November 22, 2020 | Busty Nanny Candle Boxxx Chairtied by the Boys in Jean Shorts, then Gagged and Groped by Dad! (FULL HD – 12:40 min) |

November 22 -- (FULL HD - 12:40 MINUTES) Busty, blonde babysitter Candle Boxxx is relaxing at home, barefoot and wearing jean shorts and a tight t-shirt, when she's given the task of being in charge of the neighborhood boys' sleepover. But only one boy has showed up! Candle calls up the boy's mom and pleads with her to please send the rest of them over! She feels badly that none his friends showed up and promises she'll do whatever they want if they just get over here. They finally arrive and everything is going well but then the boys want Candle to play a game called "ransom." She agrees and soon finds this "ransom" game involves tying her up with lots of rope! Our pretty, blonde babysitter has a lot of fun letting her hands be tied in front and soon finds herself chairtied in the dining room!

But then the boys want to add even MORE ropes! Candle is reluctant at first, but she goes along with this, too, and winds up with a ton of rope all around her. Her ankles and calves are tied and they even gave her some chest ropes, which exposes a lot of nice cleavage to stare at! She playfully struggles for the boys, with lots of great shots of her bare feet and soles. It's then announced that she needs to be gagged, too, because that's what a real kidnapper would do. Candle is surprised, but she doesn't want them complaining that they had a bad time at the sleepover, so she lets herself be OTM gagged with a pink, polka-dotted bandanna. Everyone has a great time listening to her gag talk while she struggles some more, playing up her role of a true damsel in distress. But these conniving kids want even more! They say she needs to be gagged better! Even though Candle protests, she winds up packing gagged with a stuffer shoved in her mouth! Candle trying to yell at the boys, but it's all muffled gag talk. The brats take off, leaving Candle chair tied in the dining room.

Three hours later, one of the boy's dad finally comes back home. Candle is relieved! She can finally be let loose! She begs the dad to help her, but he just laughs and tells Candle he rather likes seeing her all tied up like that. Instead of untying her, he adds another gag to Candle's face. Then he pulls her t-shirt up and peels back her bra cups! Candle is outraged at this turn of events, especially when the dad starts feeling her up, fondling and groping her lovely, big tits. Candle tries struggling away from him, but it's no use. He plays with her boobs for a really long time and then just leaves her all tied up to that chair, only now she's double gagged and topless, too! Hopefully, the boys don't return and see her like this…!
| | |
| --- | --- |
| November 18, 2020 | Reluctant Babysitter Natasha Flade Tied Up Barefoot in Sundress, Stuffer Gagged for Talking too Much (FULL HD – 8 min) |

November 18 -- (FULL HD - 8:00 MINUTES) Babysitter Natasha Flade is on the chaise in her cute polka-dot sundress, barefoot. The boys are trying to convince her to play a game where she gets tied up. She refuses a few of their game ideas before she finally relents. She's roped up in her dress, bound hand and foot, chest ropes and a thigh rope, seated rather comfortable. Natasha plays along like a damsel. She's approached about a gag to add a little realism to the game, and after telling them that she'll only be okay with it for a little bit, she has a large white cloth in her mouth as a stuffer gag. Natasha play along, thinking she must be the best babysitter in the history of babysitting (she's right!). After some more struggling, that wad is tied in with a thin scarf. Now she's really, seriously gagged, along with being securely tied up. She really hope the boys will continue to be nice to her in her helpless state. In her struggles, she reclines on the chaise, displaying her lovely soles.
| | |
| --- | --- |
| November 12, 2020 | Babysitter Danielle Trixie & Mom Natasha Flade Tied Up Barefoot for Game, then REAL Robber Gags and Gropes Them! (FULL HD – 12:30) |

November 12 -- (FULL HD - 12:30 MINUTES) Babysitter bondage, MILF bondage AND damsel bondage all in one! Blonde babysitter Danielle Trixie is sitting for neighborhood mom, Natasha Flade. She's on the sofa when Natasha's son comes in with a toy gun pointed at her, wanting to play "robbers." Danielle goes along with the boy's game and holds out her hands to be tied up. Now he's got her bound hand and foot, barefoot and in a skimpy mini-dress, seated on the coffee table. Her hands are tied behind her back, her ankles roped together. Her skimpy dress scootched itself up, so we get lots of great up-skirt and panty peeks! Danielle struggles playfully, just like a real damsel in distress. She's having fun, smiling and laughing.

Then MILF Natasha returns home, barefoot and in a long sundress. She finds the beautiful babysitter all tied up by her son for his little bondage game. She thinks it's cute, so she decides to play along, too! She puts up her hands for this "robber" in the house. Now both mom and babysitter are tied up together, side by side and barefoot, on the coffee table. They're now OTM gagged with bandannas, too! They struggle and gag talk playfully, sometimes over-dramatically, sometimes giggling, but always entertaining!

Then a REAL masked robber shows up! Half the work of this home invasion has already been done for him, with these two beauties already bound hand and foot. But he thinks their gags should be better, so he stuffs their mouths with big wads of cloth and re-ties the bandanna scarves over that! Now they're both stuffer gagged and a lot more quiet. He hoists their bare feet up, their soles tied so they're pointing right into the camera. Now for some fun! He strips the damsels topless then fondles their titties! After he's satisfied with feeling up two pairs of boobs, he leaves the ladies to struggle, with great closeups of their wriggling soles and jiggling tits! Poor Natasha and Danielle. What started out as a cute game turned into a REAL home invasion! Outtakes & bloopers are included at the end!