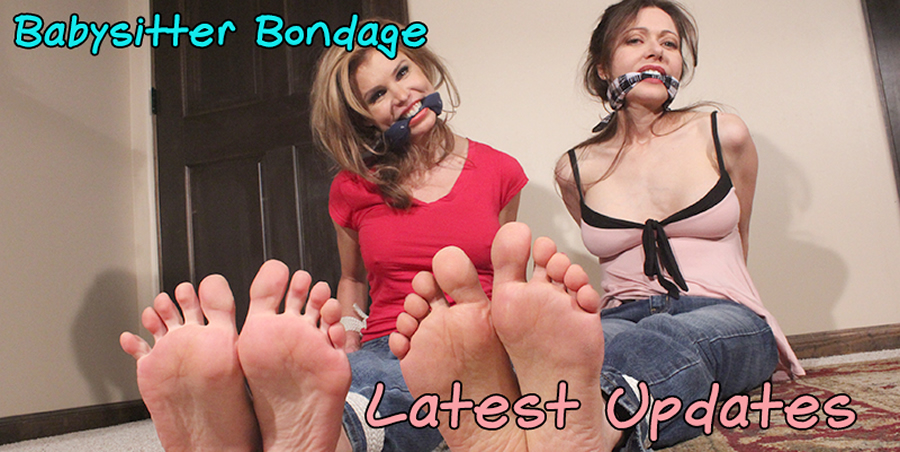 December 30, 2021

Aunt Natasha Flade and Tie-Up Games
(PHOTOS)

(PHOTOS)

December 30 -- (PHOTOS & STORY) Every time my nephew comes over he wants to tie me up. I think it's cute, so I keep a stash of ropes in the pantry for him, along with a few bandannas and scarves so he can gag me.

This time after I picked him up from my sister's, he waited all the way through his snack before he asks me to play "tie-up" with him. I hadn't even got my boots off but when I said yes he bolts for the pantry and comes out with three lengths of rope and a red scarf. He tells me to sit on the floor next to the table. "You're not going to tie me to the chair today?" Guess not. He positions me by one of the legs of the dining table and ropes my wrists together.

He busies himself with the tying of my ankles and knees before it dawned me: "Hey, so what game are we playing?"

"Tie-up."

"I know that...

...There's MORE to this story, plus ALL the high-rez photos, if you buy a PASS!
December 24, 2021

Mom Natasha Flade Tied Up by Son in Hostage Game
(PHOTOS)

(PHOTOS)

I went into Devon's room to see what he was up to. He often stays in there for long periods with video games or drawing or reading or whatever. He's a good kid and usually amuses himself. But this time when I entered he looked up from his Kindle and asked me if I would play a game with him. Surprised, I said, "Sure."

"Great. Okay, sit on the bed here and I'll take you hostage."

I really thought he meant some board game or video game, but this was fine, too. Devon explained that he needed a hostage so the police wouldn't shoot him, he'd just robbed a bank. This sounded fine and somewhat imaginative. He pulled out a length of rope from beneath his bed and told me to cross my hands behind me. This was a surprise, but I was not going to ruin the moment of him wanting to play a game with me so I crossed my wrists for him , "Please don't tie me up," I pleaded dramatically....


...There's MORE to this story, plus ALL the high-rez photos, if you buy a PASS!
| | |
| --- | --- |
| December 17, 2021 | Den Mother Natasha Flade Tied Up to Tree by Boy Scouts In Outdoor Bondage! (9:20 min) |

December 17 -- (9:20 MINUTES) RE-EDITED From the CLASSIC 2002 VHS BABYSITTER & MILF BONDAGE FEATURE MOVIE, The Tutor! Den Mother Natasha Flade is in charge of a boy scout troupe, in the woods camping. While she gathers wood for the evening's campfire, she's approached by Davy, the boy she's also been tutoring. He asks if she can help out with their knot-tying badge. Natasha isn't sure what all is involved, but she reluctantly agrees and finds out the boys mean to tie her up! As she's being tied up to a tree in her shorts and t-shirt, Davy narrates the technique to the other boy scouts for tying her hands behind, then her hiking boots and thighs are tied together. Natasha listens as she patiently waits for this business to get done.

With their den mother now fully bound to the tree in the woods, Davy pulls off his Boy Scout neckerchief. Natasha asks what he's doing. She soon finds out when she gets cleave-gagged! Natasha is none too pleased with this and gag-talks her displeasure. The boys run off and leave her all tied up and gagged in the woods. Natasha struggles, a damsel tied to a tree in the wilderness, all alone!

After a good amount of fruitless struggle-time, Natasha's husband finds her. He thinks she's really cute all tied up to that tree and doesn't make a move to untie her! But he does make a move to playfully tease her by grabbing one of her boobs through her t-shirt! Some cute outtakes are included at the end!

Creatively shot POV style from the boys' point of view, this classic outdoor bondage video is a wonderful flashback from the year 2002! The Tutor was an instant smash hit and is available in its entirely as a hard copy DVD or an instant download.
December 9, 2021

Nanny Natasha Flade & Mom Kylie Simone Tied Up & Gagged for Kid's Game!
(8:30 min)

December 9 -- (8:30 MINUTES) RE-EDITED From the CLASSIC 2002 VHS BABYSITTER & MILF BONDAGE FEATURE MOVIE, The Nanny! Nanny Natasha Flade has allowed her charge Joey to get her tied up and gagged in his games. This time, mom Kylie Simone returns home from the office to find the nanny tied up on the floor and stuffer gagged. Natasha, barefoot and in shorts, thinks she might be in trouble. Joey doesn't miss a beat, keeping up his mad scientist schtick: "Now I have to tie you up, too," he says to his hot mom, whose in pantyhose, heels, and a business suit.

"Oh, you will, will you?" Kylie says as she smiles. She holds out her hands to be tied up, going along with the game.

The movie cuts to these two hot MILFS all tied up back-to-back, hands in front and roped tightly to their thighs. Looks like even mom allowed the stuffer-gag, too! Both struggle in their bondage like damsels-in-distress for Joey's entertainment, and they look so damn good doing it, too.

After a while Kylie's husband returns home to finds the lovelies in their babysitter bondage and laughs. He ungags Kylie for the story then they re-gags her for fun. Wonderful flashback from 2002!
December 2, 2021

Mom Anastasia Pierce Chairtied and Gagged by Friends!
(PHOTOS)

(PHOTOS)

I had Doug and Alex and Justin over for a round of Omicrom, a PS5 game. First, Doug and I were going head to head as the other two watched. Mom (Anastasia Pierce) was doing whatever upstairs. I've heard Alex and Justin remark that they thought my mom was hot, but I always ignored it. I've heard it before. She was hot with big boobs, so what?

So Doug and I were going at it and Alex said, "It's going to be awhile before you're done, we're going to see if your mom will play hostage with us."

I knew what they were trying to do. We got Justin's older sister tied up last month. That was really fun. But I never got mom tied up. Never tried. I just never thought she'd be up for it. But now I was thinking about it, which was distracting me from the game. Did those guys plan this ahead of time? When I'd be glued to the game controller? Who cares? She wouldn't go for it anyway. "Good luck," I said. It would be neat to see mom tied up and gagged, but why waste hope on the impossible?

The two high-fived and headed upstairs.


...There's MORE to this story, plus ALL the photos, if you buy a PASS!
| | |
| --- | --- |
| November 27, 2021 | Chairtied & Cleave-Gagged Babysitter Loren Chance Needs to Get Loose Before Mom Returns!! (FULL HD – 10:00 min) |

November 18 -- (FULL HD - 10 MINUTES) Babysitter Loren Chance is watching Natasha Flade's two boys, barefoot in black jeans and a tight tank top. She's super happy to be babysitting these boys! They want her to play a tie-up game with them and she puts her hands out to be bound, but they insist on her crossing her hands behind her. She does and now she stands there with her hands bound behind her back. She thinks the whole bit is cute. She's then ordered to sit on a chair in the corner. She sits.

Soon our babysitter is quite thoroughly chairtied! Chest ropes are wrapped about her tits, making them look extra delicious beneath her tight tank top! Her tied up hands are roped to a leg of the chair, her bound bare feet are tethered to another. Loren plays along for a while, hamming up her damsel role. She's really getting into it!

Loren ends up cleave gagged with a thick, black scarf. Now her chatter is all in gag talk! Loren loves to talk so much that no gag would stop her! She continues playing along until it's close to time when the boys' mom is supposed to come back home.

Loren thinks she better be let go before their mom finds her all tied up and gagged in the dining room! But the little brats take off and leave poor Loren like that! Now she's really getting anxious. What's their mom going to say?! Yikes!
| | |
| --- | --- |
| November 18, 2021 | Mom Natasha Flade Chair-Tied in Boots, Sock Gagged & Super Tapegagged by Her Son! (FULL HD – 10:00 min) |

November 18 -- (FULL HD - 10 MINUTES) Mom Natasha Flade, is wearing a thick, hooded sweatshirt, jeans and mid-calf, heeled boots. She comes into the living room to find a dining room chair there, with rope, a big roll of duct tape and a pair of white socks. "Are you planning to tie me up again?" she asks, amused. "And gag me with my socks and that duct tape, too?" She's smiling because she knows how much you just love your tie-up games!

Natasha agrees to play your game, but she says she's going to pull her hoodie up so that sticky duct tape doesn't get stuck in her hair. Next thing she knows, you've got her all tied up to that chair. She compliments you on the great job you did. But now it's gagging time! So into her mouth go that big pair of wadded up white socks. Her mouth is seriously sock gagged. And she really likes to gag talk a lot! You can't understand much of what she's saying because her mouth is so stuffed full!

But you're not finished yet! The huge roll of duct tape ends up wrapped around her head about half a dozen times! Now your hot mom is super tapegagged, over her sock gag. No way she can spit that out! And she keeps going on and on in gag talk as she's struggling about, trying her very best to get loose. She's playing up her part splendidly, acting like a real damsel and she's even making a serious attempt to escape her bondage!

She starts getting angry when you don't come back to let her go. So she starts working at the knots and eventually, at the very end, Natasha finally manages to gets her hands untied! You better practice your rope tying skills even more so your mom can't get away next way!
November 11, 2021

Mom Natasha Flade Pranks Her Son That a Real Robber Tied Her Up!
(FULL HD - 8 min)

November 11 -- (FULL HD - 8 MINUTES) Mom Natasha Flade's son, Robbie, is having a sleepover and pizza party. You're one of Robbie's friends who has come over early for the sleepover — and with a plan for a prank! You find Robbie's hot mom sitting on the couch, barefoot in a short, tight sundress with her cleavage in plain view (and you can't stop staring at it!).

When Natasha tells you that Robbie is still at baseball practice and won't be home for another half hour, you guys ask if she wants to prank her son. She's curious and asks you you'd do that. You say you'd tie her up so that when Robbie comes home he will think she's been bound and gagged by a real robber! Amazingly, Natasha goes along with your bondage game prank! She smiles and crosses her hands behind her back. Soon, she's bound hand and foot, barefoot in her sundress, on the sofa. You've cleave gagged her, too, with a white scarf wrapped between her lips so now she can only speak in gag talk. And this mom likes to gag talk a LOT!

Then Natasha hears Robbie opening the door, so she tells you boys to run and hide quick! She plays her damsel role to the hilt, pretending to be all in a panic that a robber broke in and tied her all up! She keeps up this game for bit, but then she breaks character and starts laughing. Now all you boys come out of hiding and are laughing, too.

Natasha assumes the game is over, but Robbie decides he wants to keep his mom like this for a bit longer. He asks if he can play a ransom game since she's already tied up, anyway. Hmm…Is mom Natasha going to go along and play more bondage games with her son and his friends?

This MILF Bondage Video is shot POV style! If you ever wanted to tie up and gag the neighborhood mom or babysitter, this is the video for you!
| | |
| --- | --- |
| November 5, 2021 | Mom Kordelia Devonshire (with Big Tits!) Barefoot Hogtied by Her Sons & Gagtalking! (FULL HD - 12:25 min) |

November 5 -- (FULL HD - 12:25 MINUTES) Blonde mom Kordelia Devonshire (with the big tits!) comes strolling into the living room, barefoot and wearing jeans. You can't help but notice how big her tits look in that tight t-shirt she's wearing! Mom Kordelia notices that you and your brother have lots of rope with you. Of course, you two boys want to tie her up again! Kordelia goes along with your game, smiling and flirting like she does. She turns and crosses her hands behind her back to be tied up. Next, we see her bound hand and foot, with more ropes just above her knees.

She's still standing as she laughs and remarks on your good rope skills! "Are you boys enjoying yourselves?" she asks. Yes, you are! Who couldn't with her big boobs jiggling as she's hopping back and forth around the dining room. After a while, though, your mom gets a bit tired, so she plops down onto the floor, her bare feet and soles pointing right at you. And what pretty soles she has!

So you take a chance and ask if it's okay if she's gagged, too. Kordelia agrees, but there's a deal here: You can gag her, but you have to let her go 10 minutes earlier than the previously agreed upon time. So you run off and come back with the thickest scarf you could find! Now your mom's cleave-gagged and tied-up barefoot! What fun to watch her struggling and gagtalking like a real damsel in distress. But sometimes she can't help but breaking out in giggles and laughter. It's obvious she's having a lot of fun!

When time's up, you two two boys make other plans! Instead of letting her loose, you just run off and hide, leaving your poor mom all tied up on the floor and yelling through her thick gag to get over her right now and let her go! MILF Kordelia is getting upset. The time limit is up and you guys need to untie her! She's gagtalking a storm, ranting on and on. But her sons don't listen. Instead, they decide they want her barefoot hogtied, too! This is just too much for poor Kordelia! Her naughty boys have been practicing their rope tying skills on the sly and they've got their mom hogtied pretty strictly.

Kordelia can't move much at all, so she's forced to protest with grunts, mpphhs and gag talk! As she's rolling about on the floor, she pleads to please let her go. Of course, you can't really understand what she's saying since she's gagged with that super thick scarf, but you guys enjoy listening to her, so it's not exactly incentive to let poor mom go.

Instead, you run off and hide, watching your barefoot mom wriggling all around, hogtied and cleave-gagged. There's lots of awesome closeups of her gagged face, her cleavage poking out from that tight t-shirt and her lovely bare feet and soles!
| | |
| --- | --- |
| October 30, 2021 | Sexy Private Tutor Natasha Flade Lets You Tie Her Up for Acing Test! When Time's Up, She's Double Gagged Instead! (FULL HD - 10:40 min) |

October 30 -- (FULL HD - 10:40 MINUTES) Private tutor Natasha Flade is your favorite tutor! Today, she's all dressed up in a low-cut blouse, long, tight skirt, open-toe heels and pantyhose. She's so damn sexy it's no wonder she's your favorite teacher! She tells you that you scored 100% on your test, and that your Dad told her if you aced your test, she has play your favorite game. Wow! Your dream come true!

So you tell her that your favorite game is that you pretend you're a robber holding her up and then you have to tie her to a chair. Natasha is a bit surprised. No wonder your Dad put a time limit of 15 minutes on your game! But a promise is a promise, so she goes along. You come back and pretend to hold her up. Natasha throws her hands in the air like a real damsel, then stands and crosses her hands behind her back to be tied up. And her mouth is stuffed full with a huge wadded-up cloth!

You march her down the hall, stuffer gagged and hands tied behind her, then order her to sit down on an office chair in the hallway. She soon finds herself thoroughly tied to that chair: wrists bound behind the chair back, ankles tied together and attached to the base of the office chair, and chest and lap ropes to keep her secure and make sure she won't escape!

So there she is, your hot tutor all chair-tied in her sexy office attire, complimenting you on how well you have her all tied up! She plays up her part as a real damsel in distress for you, but she can't help but breaking character a few time to laugh and smile, too. You watch her as she struggles in her bonds, wriggling about and scootching her chair around. You're totally mesmerized by seeing your hot teacher all tied up like that!

Your 15 minutes was up long ago. But when Natasha tells you that time's up, she's OTM gagged on top of her stuffer gag instead! It's a really huge double gag ensemble! Your tutor isn't very happy with this state of affairs, to say the least. Not only have the 15 minutes passed long ago, but she did not agree to being gagged! She's really upset now, struggling angrily and yelling in gag talk to get back and let her go or she'll rat you out to your Dad! But you just run off, hiding and watching as she struggles and fumes. Cute outtake at the end!
| | |
| --- | --- |
| October 14, 2021 | Barefoot Babysitter Danielle Trixie Tied Up, OTM Gagged, Dad Returns to Molest Her! (FULL HD – 15 min) |

October 22 -- (FULL HD - 15 MINUTES) NEW!! NEW FOOTAGE NEVER RELEASED BEFORE TODAY!

POV of the babysat: Gorgeous Danielle Trixie is my babysitter today! She's on the chaise, barefoot in her tank top and denim shorts. I watch from my hiding place, marveling at how beautiful she is. I find the courage to stroll up and ask her to play a game with me. I'm sort of shy as I tell her. "Hostage?" Danielle asks. "And I have to be tied up?" You know my boyish shenanigans. But Danielle thinks I'm cute, so she goes along and puts her hands together in front to be tied up.

But I had a different idea in mind. When I'm finished, Danielle's hands are tied behind her back. There's rope about her chest, above and below her knees, and her ankles are bound. She remarks on how much rope I used. She's the perfect damsel, so stunning barefoot and tied up!

She begins to call for help so I add a little something to the game. Now she's OTM gagged, too! She mmmphs for my entertainment and wow, am I entertained! Danielle squirms around on the sofa, showing off her bare legs and soles. She starts hopping about the living room and that's when I take off -- I'm about to explode with excitement!

POV of Dad: I came home to find the hot babysitter all tied up and gagged with a detective gag. This was totally hot. I sat beside her and pulled that gag down. Danielle told me that my kid had just left her like this. Left her? Well, great. So I slipped that scarf between her teeth for a nice cleave gag, but she was still pretty noisy, so I fetched a bandanna and jammed that between her pretty lips so she's double cleave-gagged. Much better.

I always had a thing for Danielle. I mean, who wouldn't? And now my boy has her all tied up and gagged for me, ready to molest. How convenient! I pulled her tits out from her top and bra so I could fondle those amazing boobs! Holy shit! Waaay better than just thinking about it. She might not come back for another job, but this is far too good of an opportunity to pass. Had to let her alone for a minute. I hid in the kitchen where I could watch what she'd do. She struggled against the ropes and whined through the double gag, her boobs bouncing all over the place. Oh, man, I was about to explode watching her!
October 14, 2021

Secretary Star Nine Chair Tied & OTM Gagged in Emergency Babysitter Job!
(FULL HD – 8:40 min)

October 14 -- (FULL HD - 8:40 MINUTES) Secretary Star Nine gets a call from a friend who says she needs some emergency babysitting. Star is working from home as a secretary and really doesn't have time for such things, but she gives in and her friend drops the boy off at her place. Once he gets there, the kid asks Star if she can play a game with him. She tells him that she's really busy and to go play his video games instead.

The boy comes back a little later to see if she can play with him now. Star says she'll play any game that he wants, but first he must promise that he will be totally quiet and leave her alone for two hours. Of course he promises! He'll do anything for a chance to play with his pretty babysitter. When he approaches Star a few hours later, after being exceptionally good, she asks him what game he has in mind. He wants to play a make-believe game where she's a rich man's daughter who's being held captive. And he'd have to tie her to the chair.

Now Star thinks this game is a bit odd, but she goes along anyway, and soon finds herself tied to her chair with numerous ropes everywhere. The kid even attached her hands to lap ropes to secure them down in front. Star is a bit surprised, but decides it's innocent enough and plays along, pretending to be a real damsel who's being held for ransom. She struggles a bit, then makes an attempt to get loose.

She manages to get her phone off of the desk to call for help, then chastises the boy for being sloppy with his ransom job. Well, this just gets her OTM gagged! Star is not too pleased with this development in the game, but she can't get the gag off! The boy watches as Star frets and fumes and trying (without much success) to yell for him to get back her and untie her. But all she can manage is some mumbled gag talk from behind that gag…

Star is wearing office attire for this video: business suit, pantyhose and high heels.
| | |
| --- | --- |
| October 8, 2021 | Nanny Natasha Flade Tied Up Barefoot & OTM Gagged In Sundress for Hostage Game (FULL HD – 11:11 min) |

October 8 -- (FULL HD - 11:11 MINUTES) Nanny Natasha Flade is babysitting in her long sundress when her charge comes into the bedroom saying he wants to play a game. Natasha knows that means she's going to be tied up again! She smiles and goes along to make the little guy happy. But there's a condition this time: he has to agree to let her go after just 15 minutes. Of course, he doesn't stick to that crazy idea!

Natasha throws her hands into the air as she's held up by the "robber," then holds her hands out in front to be tied up. Our nanny soon finds herself OTM gagged and tied up barefoot, seated on the floor, her bare feet and soles sticking right out at the camera! She wriggles all around, putting on a great damsel show for the little guy with lots of gag talk, pleading and those wide damsel eyes you love so much.

But the 15 minutes go by and the kid is nowhere to be seen! So Nanny Natasha pulls her gag off and starts calling out for help, but the boy comes back and catches her! "What? You're going to tie my hands behind my back now?" Natasha asks. Yes, you are! Now you have your babysitter with her hands tied behind her back. Plus, you have her cleave-gagged now, too!

Natasha continues playing up her part that she's been taken hostage for ransom. She puts on a really good show with her wonderful damsel expressions, playful struggling, and plenty of gag talk. As she rolls around on the floor, the viewer is treated to lots of great shots and close-ups of her wiggling bare feet and soles. After a while, she says your time is up. "Time to untie the hostage!" You don't want to, of course, but your nanny says you can tie her up again another time. Wow! You can't wait!
| | |
| --- | --- |
| October 2, 2021 | Barefoot Housewives Natasha & Chloe Pay Boys for Yard Work with Tied-Up Hopping Game (FULL HD – 10 min) |

October 2 -- (FULL HD - 10 MINUTES) Neighborhood housewives Natasha Flade and Chloe Night are sitting at the table sipping coffee, barefoot in jeans, while you and your brother are busy doing their yard work outside. Natasha tells Chloe that she used to babysit you when you were little and how you always wanted to tie her up. Chloe is curious and asks for details! So Natasha goes into detail about how she let herself be bound and gagged in all sorts of different ways for your tie-up games. Chloe thinks these stories are so adorable!

When the yard work is finished, you guys come inside to get paid. Natasha reaches into her purse for cash, but you stop her. You say that a deal can be made instead! If Chloe and Natasha agree to be tied-up right now, just like Natasha did in her babysitting days, then she doesn't need to give you any money! Natasha thinks you're too old for this type of thing now, but Chloe thinks it will be a lot of fun! So Natasha gives in and the two barefoot housewives stand up, turn their backs to you, then cross their wrists behind at your request. You think their asses look great in their jeans! You can hardly believe your old babysitter and her hot blonde friend have agreed to be tied-up!

We cut to our two neighborhood moms bound hand and foot. They laugh and giggle as they ask what's next. They're impressed with how tight your rope work is! Natasha thinks you've been practicing since you tied her up the last time. She teases you by saying she can get away by hopping! Then she starts hopping around while all tied up for a demonstration. She's really good at it, too! Chloe tries to follow suit, so now they're both tied-up barefoot and hopping all over the place, their tits jiggling beneath their tops.

But then Chloe falls right down on her butt! Now you can see her beautiful bare feet and soles! Natasha just laughs at Chloe and starts hopping back and forth right over her, laughing and having lots of fun! These two hot neighborhood housewives love playing your tie-up game and you boys love watching them all tied-up and hopping! You guys think you'll be back to do the yard work every day!
| | |
| --- | --- |
| September 23, 2021 | Barefoot Babysitter Chloe Night OTM Gagged In Game, then Dad Returns for Bondage Sex (FULL HD – 12 min) |

September 23 -- (FULL HD - 12 MINUTES) Chloe Night is about to go to sleep. She's in bed, barefoot in a silk nightshirt and little else. But wait, she's babysitting! The little dude comes in and wants to play a game. Chloe agrees to just one game before he has to turn in. Then she sees he wants to tie her up! She thinks that's so adorable and holds her hands out to be tied. She's rather impressed with his technique. Hmmm, where he'd learn to do that? But she thinks it's cute, so she goes along and plays her part up just like a real damsels would.

But now her charge makes another request: he wants her gagged, too! Chloe is a bit reluctant, but she relents and gets a bandanna detective gag. Now OTM gagged, Chloe mmphs for her little bandit because she knows that he likes it. But wait, this dude's not done! Now she has her ankles and thighs tied up, too! She struggles playfully on the bed, showing off her bare feet and soles.

The game's just about over when the kid's dad (Sergio) returns to pick his son up. Chloe is embarrassed for him to find her like this! But Sergio likes the work his kid has done. He decides to take full advantage of the tied up babysitter on the bed! He connects Chloe's hands to the headboard, then he adjusts her OTM gag, shoving it between her lips so now Chloe's cleave-gagged instead. Then he pulls her nightshirt up to get her tits out. Chloe is getting really upset now. This is not what she'd agreed to! She thought she was just playing an innocent game with the kid, and now she's being groped by his dad!

Then Sergio strips down naked and jumps into the bed. He fondles Chloe's tits, then fingers her pussy. All warmed up, his hard cock throbbing, he fucks that babysitter like she's never been fucked! He has her bare feet slung over his shoulder as he plows Chloe as only "thundercock" can! Wow! All his fantasies came true! He's secretly always wanted to fuck the babysitter and now he is! He finishes up the evening with a great cumshot finale, shooting love juice all over Chloe's tits! A beautiful cum shot to end Sergio's beautiful day! Chloe probably would describe her day a little differently….but who knows? Maybe she liked it after all. If Dad ever lets her go, we'll see…
| | |
| --- | --- |
| September 16, 2021 | Busty Blonde Mom Kordelia Devonshire Bound Barefoot in Her Robe by Her Son & His Friends at the Sleepover! (FULL HD – 7 min) |

September 16 -- (FULL HD - 7 MINUTES) Busty blonde mom, Kordelia Devonshire, has a bunch of boys in the house for her son's sleepover. She's in her robe and getting sleepy, so Kordelia tells the boys that she's going to bed. But they cajole her into playing a "short" game with them before she retires for the evening. When our busty mom hears that her son and his friends want to get her tied up as part of their game, she hesitates. However, since she's a really cool mom, Kordelia eventually relents and goes along, hoping it's just an innocent thing like something they saw on TV or something.

It turns out these guys are a bit more experienced than Kordelia anticipated! She soon finds herself all bound barefoot and cleave-gagged on the chaise in her robe, her bare feet and soles sticking straight out — and her large boobs about to pop out of her robe! They've tied her chest up, too, and attached the ropes around her breasts to one end of the chaise. Her wriggling, crossed bare feet are tied to the opposite end so she's tied stretched out.

Mom Kordelia puts on a good damsel in distress show for the boys, with a lot of gag talk about how she's a kidnapped mom! That just adds to the fun! Her son and his friends just love watching this hot mom (with the big breasts!) struggling on the chaise, her soles wiggling all over the place and pleading in gag talk. What a super cool mom Kordelia makes! Outtakes at the end!
| | |
| --- | --- |
| September 9, 2021 | Barefoot Mom Natasha Flade Plays a Tied Up & Gagged Damsel Just Like the Movies! (FULL HD – 9 min) |

September 9 -- (FULL HD - 9 MINUTES)Mom Natasha Flade is watching a movie with her son when a bondage movie scene comes on. She laughs at how fake it is, but her boy says he could do better. The bet is on! Natasha tells him to get some ropes and tie her up just like the damsel in the movie. She's not worried, she says she can escape easily.

Your mom stands up, crosses her wrists behind her back and allows herself to be tied up hand and foot. She notices that the brat tied her a little differently and it's going to be more difficult than she thought to escape.

Then she agrees to being gagged on the condition that it's ONLY like the one the lady had in the movie – a thin cleave gag. She demonstrates that she can talk right through it without much trouble, going on in lots of gagtalk.

She still isn't escaping those ropes, but it's lots of fun watching as mom playfully struggles, her bare feet wriggling. She's putting on a great damsel show for her little guy.

Her son approaches again, saying he wants to try a REAL gag on mom. So now she gets her mouth stuffed full with a big wad of white cloth. That's followed by an ace bandage wrap to hold it in. Wrap gagged! And that's how Natasha remains for the rest of the video: tied up on the sofa in her jeans, barefoot, and with a REAL packing and wrap gag!
| | |
| --- | --- |
| September 4, 2021 | Mom Natasha Flade Plays Hostage in Basrefoot Sweater Bondage and Thickly Cleave-Gagged (FULL HD – 7:20 min) |

September 4 -- (FULL HD - 7:20 MINUTES) You and your brother have your hot mom Natasha Flade all tied-up barefoot on the floor for a game of hostage. She's bound hand and foot, and wearing jeans and a tight, pink sweater. There's chest ropes above and below her boobies, which make them stick out even more! She struggles for you, pretending to be your kidnapped damsel, but she can't help breaking out in laughter sometimes, too. It's obvious she's having a LOT of fun! And YOU'RE having a lot of fun staring at her bare feet and wiggling soles! Her titties look nice in that tight sweater, too!

But then you two boys approach to ask if you can gag her, too. Your mom goes along on the condition it's only for five more minustes. But Natasha wasn't expecting to be cleave-gagged with such a thick scarf and such a HUGE knot in it! Still, she keeps on playing your game, showing off her lovely soles and gagtalking a lot from behind that huge knotted cleave. She seems to be trying to tell you something, and she looks like she might be getting a bit upset. Maybe because your game has gone on WAY past the time limit? Hard to tell because mom keeps smiling, too.

Oh well, you'll just leave her like she is. After all, you can't decipher what she's going on about because it's all muffled gag talk, which was the whole goal of your game — keeping mom all tied up barefoot and SUPER gagged. What a happy day!
| | |
| --- | --- |
| August 26, 2021 | Teacher Natasha Flade Triple Gagged & Chair-Tied In Boots & Miniskirt as Student's Reward for Acing Quiz (FULL HD – 13:15 min) |

August 26 -- (FULL HD - 13:50 MINUTES) Teacher Natasha Flade is curled up on the chaise in her pantyhose and miniskirt. She's going over her notes, wondering how to motivate her student, who is having concentration problems. Then Natasha changes into a sweater and a parka, since it's winter and cold. She parades around, feeling especially sexy in her boots and miniskirt before heading over to her student's home. She enters her student's house and looks around to see where you are. She greets you with all smiles, then sits down to begin today's lesson. She gives you a quiz and says, "If you're able to finish this test in 15 minutes, we can do whatever you like as a reward."

That is some real movitivation and her student aces the quiz. Now it's time for your reward! Natasha thinks what you want is a little "curious," but she agrees to go along. Soon she's sitting in front a table full of rope and various things that you obviously intend to gag her with! Natasha is surprised. "You want to tie me to this chair and gag me with these socks, this scarf and this roll of vet wrap, too? That's a lot. But okay." Wow! You're so lucky!

Soon our teacher finds herself all tied up to her chair in her parka and miniskirt. Then all that gagging is added in layers. First, white socks are stuffed in her mouth, then a soft scarf as a cleave gag over that. But then her student goes too far! He takes the whole roll of vet wrap tape and and wraps it around her entire head and face! Poor Natasha is triple gagged, her head wrapped — and very thoroughly silenced!

After a while, you let her loose — except for all that gagging! You want her to remove it herself. So Natasha stands and poses with all her gags still on. At your request, she pulls up her parka hood, twirling around and showing off how sexy she is with her long legs in her pantyhose and black ankle boots.

Then Natasha unwraps all of that vet wrap off her head. She pulls the cleave gag off and pulls the socks out of her mouth. Then your teacher says goodbye and struts out the door, glancing over her shoulder with that smile that always turns you on. And she's promised you can tie her up again if you continue to ace your homework!
| | |
| --- | --- |
| August 20, 2021 | Sexy Mom Natasha Flade Plays YOUR Game, Tied-Up Barefoot On Table in Jeans & Cleave-Gagged (FULL HD – 6:00 min) |

August 20 -- (FULL HD - 6:00 MINUTES) Your sexy mom, Natasha Flade, is in the living room, barefoot and in jeans and a tank top (no bra!). You approach her and ask if she'd like to play a game with you. "What kind of game do you want to play?" asks Natasha. When you tell her, she laughs, "Oh, you want to tie me up? Hmm, I'm not sure." She lets you sit there for a minute, wondering what her answer will be. But she's just teasing you. Natasha knows you love to see her all tied up! So she agrees to play and gets up on the coffee table at your request.

We cut to your mom Natasha bound and gagged atop the coffee table. Her hands and ankles are tied crossed, her bare feet dangling off the edge of the table. She's cleave-gagged with a really thick scarf. She says in muffled gag talk, "I didn't say you could gag me, too, but I guess it's okay as long as you promise to be good."

So your mom plays the part of a damsel in distress for you. Sometimes she can't help but break character and laughs and smiles. She's having a lot of fun! And so are you! You love watching her all tied-up barefoot and all that gag talk is great! But you especially love watching her wriggle her bare feet and soles for you. It sends you right over the top!

At one point, Natasha gets bold and tries to scoot herself off the table to hop away, but then she finds that you've tethered her feet to the table leg! Clever! When you eventually come in to rescue your damsel, she acts relieved and thankful to her hero! What a wonderful day! You can't wait to tie up your mom again!
| | |
| --- | --- |
| August 13, 2021 | Barefoot Babysitter Quimm Anaheim Tied Ass-Up in Thong Panties & Gag Talking When You Run Off (FULL HD – 7:30 min) |

August 13 -- (FULL HD - 7:30 MINUTES) IQuimm Anaheim is doing an overnight babysitting job. She's in bed, barefoot in her silk nightshirt, when her charge approaches and asks to play his favorite game where he gets to tie the babysitter up! Quimm agrees to play on the condition that you go to bed straight afterwards. You run and get your ropes and babysitter Quimm soon finds herself tied belly-down on the bed. Her wrists are attached to the footboard in one corner, her bare feet tied to the bedpost on the opposite side of the bed.

Her cute ass is peeking out from her nightshirt, covered in only skimpy, thong panties. Quimm realizes her ass is sticking out, and that you're staring at it! You little perv! She doesn't think your mom would like this situation, so she demands that you either tie her up in a different position or at least pull her nightshirt down! Instead, she gets cleave-gagged!

Now this naughty boy gets plenty of peeks at her exposed buns, which doesn't make Quimm very happy! And those wriggling bare feet and soles! What a night for you! Not so much for poor babysitter Quimm. She agreed to play your game and now you've run off and just left her all tied up on the bed! She protests and pleads in lots of gag talk to come back and let her go right now. But you don't return. She doesn't get released.

Now Quimm is really angry! Her pleas turn into demands. She even starts gag-screaming at you! By the end, Quimm is desperate and now she's trying to make a deal with you so she can get untied. Will you take the offer? Or does poor Quimm have to stay tied up all night long with her bare ass and soles hanging out? God, we hope so!
| | |
| --- | --- |
| August 7, 2021 | Mom Natasha Flade Tied Atop the Table All Night by Her Son, Fuming Mad then Her Heels Fall Off! (FULL HD – 7:18 min) |

August 7 -- (FULL HD - 7:18 MINUTES) In Part 1, mom Natasha Flade is all dressed up for an outing to the art gallery when her son convinced her to play a game called "hostage" before the babysitter arrived. But she did have one condition: to let her loose before the babysitter showed up in 15 minutes! But once you have your mom tied up and cleave-gagged on the coffee table, you told the babysitter they didn't need her so you could keep your mom tied-up all day! VERY naughty indeed!

Natasha wasn't at all happy about this and tried hopping away, but didn't succeed. Now, she's just plain hopping mad! Her bratty son has her tied atop the coffee table, so very tightly that she can't get loose! Oh, but mom Natasha tries! She's struggling really hard and fuming mad, yelling for you to get back here right now and let her loose! She vacillates from pleading to thinly veiled threats (which aren't that very well spoken as they're all in gag talk!)

Eventually, Natasha starts to get worried her son is going to just leave her tied up on that coffee table all night! She's angry that her dress and pantyhose will be all crumpled up to boot! And to make matters worse, her high heels have fallen off in her struggles. So now here's our redhead mom, bound and gagged strictly atop the table, her pantyhose-clad feet hanging off the edge. Of course, you're taking lots of long peeks at those stocking feet from your hiding spot! What boy wouldn't want that?
| | |
| --- | --- |
| July 31, 2021 | Mom Natasha Flade Tied In Heels & Hopping When Son Makes Her Late for Art Gallery Outing! (FULL HD – 6:50 min) |

July 31 -- (FULL HD - 6:50 MINUTES) Mom Natasha Flade is all dressed up for an outing to the art gallery. She's in white high heels, pantyhose and a tight, little dress. Her son approaches as she's vaping on the sofa. He wants to play a game called hostage before the babysitter arrives. Mom Natasha hesitates a bit, then relents and says OK, but there's a condition! He has to promise to let her loose before the babysitter arrives in 15 minutes! So now he's got his redhead mom tied seated on the coffee table, bound hand and foot, and with chest ropes, too!

She plays the damsel in distress for a while like the cool mom that she is, but then her son wants to know if he can gag her, too! Natasha reminds him they have just two minutes before the babysitter shows up. She doesn't want to be late for the art gallery. But her son really wants to see her gagged, so Natasha agrees and winds up cleave-gagged with a blue and white scarf.

As the two minutes go by, mom Natasha starts calling out in gag talk for her son to come back and let her go. When he doesn't return, Natasha takes matters into her own hands by hopping around the room – while she's still tied up! Eventually, her son returns and tells her that the babysitter did come - but he told her that she wasn't needed. Now they have the whole day to play tie-up! Natasha is a bit upset about this news and starts to fume! Is her naughty boy going to catch hell or is mom the doomed one here?
| | |
| --- | --- |
| July 23, 2021 | Sexy Barefoot MILF Natasha Flade LOVES Showing Off Her Ass Playing Son's Game, then Her Boobs Pop Out! (FULL HD – 13 min) |

July 23 -- (FULL HD - 13 MINUTES) Sexy MILF Natasha Flade is barefoot in a jean miniskirt and camisole top when she's approached by her son to play a game where she's all tied up and gagged. She's a really cool mom, so she agrees then sits down on the floor to be bound hand and foot for your tie-up game. As she struggles playfully on the floor, just like a real damsel would, Natasha starts to gag talk about how a local college guy thinks she's hot and calls her a MILF. She laughs when you ask her what is that?

She rolls about some more on the floor, giving us some nice barefoot shots, along with lots of closeups of her pretty soles! As Natasha rolls around, you see her panties (a LOT!) as her short denim skirt rides up. She doesn't notice or doesn't seem to care. After all, she knows she's a sexy barefoot MILF with a super hot ass! Lucky you having a flirty mom who lets you watch her pink panties poking out from her jean miniskirt as she wiggles all about!

But it gets even better for you! About halfway through your game, one of your mom's boobs pops right out of her top! Yikes! But Natasha doesn't seem to notice or, if she does, she doesn't care. Who knows why? But hey, you get to see your mom tied up barefoot, swinging her hot ass and panties around constantly for your entertainment, and now she's topless to boot! What joy! Your friends are so jealous their moms aren't sexy MILFs!

You're so excited you're already planning how you'll tie her up next...
July 15, 2021

Mom Kordelia Devonshire & Niece Dianni Ontufay Hogtied at the Sleepover!
(PHOTOS)

July 15 -- (PHOTOS) Roy was having a sleepover, which usually meant a night of pizza and videogames. But this time things went a little different. We always loved Roy's mom, Ms. Devonshire, the blonde with the big boobs. After we were all in our pajamas after pizza, she came out of the bedroom in hers. I wouldn't have thought anything about it except her boobs were just swaying behind the thin fabric of her top and her nips were showing, and I could not pay any more attention to the videogame. And neither could anyone else!

Then Roy's Latina cousin Dianni came over and damn, she was hot. She didn't know we were having a sleepover and felt left out because she really didn't have any pajamas to join in. Ms. Devonshire asked her what she did have in that backpack and they went upstairs. When Dianni returned it was like WOW. Whatever she had on, it was not pajamas. More like underwear, but not really that, either.

Well, now we were all ogling Dianni and no one was playing video games anymore. I saw Bill and Jason whispering to one another and I knew something was up. Nothing that would get us into trouble, I hoped. I just kept talking to Dianni just to have her attention and so I'd have an excuse to keep looking at her. I think Roy's mom noticed me, because she kept giggling.

When Dianni went upstairs for something, Bill and Jason soon followed. After a few more minutes, Roy pulled a toy gun on his mom. All of a sudden we're playing robbery, and he had Phil tying his mom's hands behind her. She was laughing more than really playing, but seeing her get tied up was really something! We marched her upstairs where we found hot Dianni all tied up on Ms. Devonshire's bed. Hands behind her, feet connected to her hands. And this huge gag in her mouth. She didn't look too happy, but Ms. Devonshire thought it was hilarious.

We had this hot mom and her hot niece all hogtied barefoot and gagged on the bed. Dianni stopped being mad and joined her Aunt in struggling on the bed. This was some sort of sensory overload, the greatest thing I'd ever seen in my whole life...There's MORE to this story, plus ALL the photos, if you buy a PASS!
| | |
| --- | --- |
| July 8, 2021 | Nephew Finds Aunt Natasha Tied & Tapegagged, Tickles Her Bare Feet Relentlessly! (FULL HD – 18:15 min) |

July 9 -- (FULL HD - 18:15 MINUTES) Aunt Natasha Flade wants some bondage playtime before the kids get home from school! She's tied up barefoot on the sofa in jeans and tank tops. Natasha's being sort of bossy, instructing her husband, Isaac W., to make sure she's tied up really well because that's the way she likes it. Isaac complies with his wife's kinky wishes as he ties her ankles crossed, pulls her bare feet out taut and attaches them to the end of the sofa so her soles are dangling off the sofa. There! She isn't going anywhere, just as requested!

Natasha says she's ready to be tapegagged. They're out of duct tape, so he hurries to the store. While he's gone, Natasha has fun struggling and testing her bonds. Then she hears the door open. It's her bratty nephew, Johnny! He decided to skip school and come visit his Aunt Natasha instead. Natasha scolds Johnny, but he's too busy staring at her tied up feet! This is way too tempting!

Aunt Natasha is VERY ticklish! Johnny gets a naughty idea to tickle her feet while she's all tied up and can't stop him! "You wouldn't dare!" Natasha says with alarm. Oh, but Johnny would! He comes back armed with ticklish implements! He tickles Aunt Natasha's bare feet with a kitchen fork, then a ball point pen. He grabs a phone line cable and tickles her with that, too! Aunt Natasha squeals and screams, pleading to please stop. She's so ticklish she can hardly breathe! And she's getting exhausted from writhing all about from this merciless foot tickling!

Eventually, her husband returns, so Johnny runs off and hides. Natasha tries to tell Isaac that Johnny is in the house - waiting to tickle her even more. But Isaac thinks she's just making it all up, so he tickles his wife's feet a little bit himself. Natasha is adamant she's not lying and to let her go before Johnny comes back. But Isaac cuts her off by stuffing her mouth full with white cloth. He handgags her so she can't spit it out, then applies several layers of duct tape over that. Natasha is now both stuffer and tapegagged, just as she requested!

Thinking her story about Johnny is just part of their bondage game, Isaac leaves again. Sure enough, Johnny pops out of hiding! But now he's got an electric toothbrush! He tickles her feet like mad with that toothbrush. Poor Natasha goes nuts! She's squealing, squirming and pleading to please stop now! This is more tickling than Aunt Natasha has ever had to endure before!

But does her nephew stop? No, he doesn't. And the kicker is that Natasha made sure Isaac gagged her so well that he can't even hear his wife from down the hall!
| | |
| --- | --- |
| July 2, 2021 | Kinky Aunt Natasha Loves Being Tied Up with Scarves, Gagged with Socks & Blindfolded! (FULL HD – 16:30 min) |

July 2 -- (FULL HD - 16:30 MINUTES) Aunt Natasha Flade is babysitting you while your parents on holiday for the week. She's really excited to watch you because she just loves playing your tie-up games! Aunt Natasha arrives at your house and sits down on a chair. You think she looks so pretty in her jean leggings, turtleneck sweater and ankle high boots. She tries to hide how happy she is to see you because she knows that's a bit too kinky. You watch as your naughty Aunt teases you with her feet, swinging her boots around, then taking them off to show you those white ankle socks that you love so much.

When she teases that she's going to nag you all week long, you say you'll stop her by tying her up! She thinks that's a great idea! But you'll have to catch her first! You find your Aunt Natasha in the living room on the sofa. "You found me!" she laughs. "You better tie me up really tightly so I don't escape!" She crosses her hands behind her back to be tied up. Next thing she knows, Aunt Natasha is tied up with a ton of scarves binding her everywhere, even around her chest.

You aunt pretends she's real damsel in distress taken hostage, wiggling about and making little mewing sounds. She calls out for help, so you decide you need to find something to gag her with. When you come back, you have two matching white scarves and socks. "Oh, you know I can't wait to be gagged and blindfolded!" Aunt Natasha says happily.

And soon she is just that! Natasha gets a pair of wadded up socks stuffed in her mouth, followed by a white detective gag on top of that. And she's blindfolded with a matching white scarf, too! You watch with joy as your Aunt playfully struggles on the sofa, wiggling her white socks at you a lot. As she's playing the damsel for you, she throws in some gag talk because she knows you like it (and she does, too!) Your kinky Aunt is having so much fun that she falls right off the sofa!

At the end of the game, Aunt Natasha pulls the blindfold off, then spits the packing gag out of her mouth. "Wow! You did a really great job!" she says. Natasha laughs and smiles as she tells you how much fun this game was and she can't wait to play again all week long! Wow! A whole week of your Aunt Natasha in sweater bondage, tied up with scarves, gagged with socks and blindfolded, too! Oh my, you think you'll just die and go to heaven!
| | |
| --- | --- |
| June 24, 2021 | Busty Mom Kordelia Devonshire Barefoot Hogtied for Son's YouTube Escape Challenge Video! (FULL HD – 7:40 min) |

June 24 -- (FULL HD - 7:40 MINUTES) Busty, blonde mom Kordelia Devonshire promises her two sons that if they got their grades up to As by the end of the semester, she would do a live YouTube Escape Challenge Video Show! Now Kordelia's sons both got As, so she has to keep her promise! She's describing how it all happened, POV style, talking into the camera as though you the viewer are her sons.

Mom doesn't leave out any details about how her 2 boys planned a clever way to get their mom barefoot hogtied! Those little brats even managed to give their mom elbow ties, too! Kordelia is having fun, though, being hogtied in her miniskirt. Her two sons (and the filming crew) are having a great time, too, watching this blonde MILF with her really huge tits, as she struggles, her bare feet and soles wriggling about. Her escape attempts are extra hard with her elbows tied tightly.

Everyone is watching in suspense as Kordelia does her very best to escape her bonds. But she fails! So now Kordelia must suffer the loser's fate of being cleave gagged next! To make matters worse, her sons are refusing to untie her! Now mom is really furious! She starts struggling like crazy, mad as a hornet! She finally resorts to pleading in gag talk, but will it work? Will those brats let their busty mom go or is she doomed to remain bound and gagged on the couch all night long?!
| | |
| --- | --- |
| June 17, 2021 | Teacher Natasha Flade Chair-Tied, Cleave-Gagged & Dragged Away by Angry Parent! (FULL HD – 16:30 min) |

June 17 -- (FULL HD - 16:30 MINUTES) Teacher Natasha Flade comes over to a student's house to have a meeting with his father, Isaac W. Natasha is explaining how his son is a disruptive bully and other parents have been complaining, that he may need some help. The kid's dad throws the blame on these other "oversensitive" kids and their "coddling" parents. Natasha tells him that some of the parents have threatened to file a police complaint, but Isaac finds this ridiculous!

Tutor Natasha is about to storm off, but now Isaac is all riled up because she refuses to hear his side of things. He grabs her, forces her back into the chair, and starts tying her to it. She resists every step of the way, never shutting up the entire time. So Isaac grabs a scarf to cleave-gag her with. Still, Natasha continues ranting on in gag talk.

When it gets close for Isaac's kid to return home, he realizes that he has to hide his chair-tied teacher, so her drags Natasha — chair and all — off the screen! Natasha Flade is in a long denim skirt and sweater in this teacher MILF Bondage video. Bloopers and outtakes at the end!
| | |
| --- | --- |
| June 10, 2021 | Mom Natasha Flade & Star Nine Hit the Vodka at Boys' Sleepover! Bound Barefoot & Double Cleave-Gagged! (FULL HD – 12:40 min) |

June 10 -- (FULL HD - 12:40 MINUTES) Mom Natasha Flade and her friend Star Nine are hitting the vodka at her son's sleepover! They're barefoot in their sleep clothes (short shorts and tank tops). Now they're way too tipsy to be watching a gaggle of boys! Star is not too keen on kids, and her fears are soon realized when they're approached by the gang of boys about playing some game where they get all tied-up. Since Natasha is pretty tipsy, she is all about playing along. Star…not so much. But after some convincing by Natasha, both mom and her friend end up tied back-to-back on the bed with a hundred feet of rope. They've been cleave-gagged with thin scarfs on top of the cloths stuffed in their mouths. Chest ropes make their tits look amazing through their thin tops.

Star is NOT happy at al! Natasha is playing along happily as a true tied-up and gagged damsel with lots of gag talk. After a bit of struggling for the boys' amusement, mom Natasha and her friend Star fall over on the bed! They can't get back upright with all that rope tied around them and start calling out for help and to let them go right now! They're getting a little angry at this point because the boys have run off, thinking it's funny to leave mom and her hot friend all tied up on the bed. Fuming mad now, Star and Natasha struggle harder now.

Someone finally returns…a sixteen year neighborhood kid! Natasha and Star are incensed that her son invited some perv to watch the show! They tell him to get lost and tell her son to get his butt in here right now and let them go. The kids finally come back, but do they let their mom and her friend go? No! Instead both get a second cleave gag on top of the first one! Star and Natasha may be a little drunk, but not enough to stop them from ranting and demanding to be untied! As their struggles become more furious, MILF Natasha and blonde hottie Star fall over again! Now they're mad as hornets! But you won't mind because it gives us lots of great close-ups of their bare feet, soles and double cleave-gagged faces, now looking pretty angry! An outtake is included at the end.
| | |
| --- | --- |
| June 3, 2021 | Nerdy Girl Babysitter In Glasses Quimm Anaheim Tied-Up Barefoot for Game, then Handgagged and Groped by Dad! (FULL HD – 11:50 min) |

June 3 -- (FULL HD - 11:50 MINUTES) Nerdy-girl Quimm Anaheim is your busty babysitter that you ogle at! Her cleavage is busting right out from that tank top she's wearing. Her glasses really turn you on! Quimm agrees when you request to play a tie-up game. Yay! Soon, Quimm is tied up barefoot on the chaise in her tank top and jeans, hands bound in front, bare feet roped together, secured with another rope wrapped about her arms and waist. Then she's cleave-gagged with a blue bandanna.

Your sexy sitter plays along as a true damsel in distress with lots of overly-dramatic struggling. She wiggles her bare feet and soles about, then pauses to plead a bit in gag talk. But sometimes Quimm can't help but break character and giggle through her gag! You love watching her like this!

But then you run off. Quimm's fuming mad that you left her like this! Then here comes Dad finally! He'll let her go! But no, that doesn't happen. He likes seeing Quimm all tied up like this. He doesn't let on at first, though. Instead, he plays it cool and they both laugh. Then the mood changes as Dad strips down Quimm's top, exposing her huge (natural!) boobs. Quimm is shocked and starts trying to fight him off. When he starts groping her tits (how can he help himself?), Quimm screams, but she's handgagged while he continues with his non-stop fondling of her boobies!

She's being way too noisy, so dad pulls out a bandanna for a second cleave gag. Worried he might get caught, he leaves poor Quimm alone and struggling on the chaise, now topless and double cleave-gagged. The viewer is treated to great shots of her bare feet, soles and those huge, jiggling boobs! Will anyone save Quimm? And what if Mom finds her like this, too? If you ever wanted to tie up and grope the girl who watches your kids, this video is for you!
| | |
| --- | --- |
| May 26, 2021 | Secretary Candle Boxxx Chair-Tied at the Office In "Bring Your Son to Work Day!" (FULL HD – 8:45 min) |

May 26 -- (FULL HD - 8:45 MINUTES) Secretary Candle Boxxx is hard at work at the office. She's at her desk in her secretary attire. It's the day where the company says you can bring your kids to work, and Candle's son is there. After everyone else has left and the place is empty, Candle's son approaches her about a playing a some kidnapped game where he ties her up! "Right here in the office?" she asks. "How about at home instead?" But no, he wants his mom tied-up right there in the office, where it would seem so much more real!

Candle laughs, shrugs, and then she goes along like the fun mom that she is, then she holds her hands in front to be tie and soon mom's chair-tied right there in her office chair. Her son did a really good job with lots of ropes everywhere! He gave her lap ropes, waist ropes, and even tied her ankles together, too! Candle is impressed by her son's ropework skills! She compliments him on how tightly she's all tied up. Then she puts on a good damsel show for his benefit, playing the damsel in distress and scooting her chair about her office. She's being very dramatic and a little patronizing.

Then her kid approaches his mom with the final touch — he wants her gagged, too! It's a small gag, so Candle agrees — but then she realizes that he has one of the boss' neckties! She's now tightly cleave gagged with her boss' thin necktie! She hopes no one returns and finds her like this, pretending to be kidnapped and bound and gagged, no less. She tells her son in gag talk that he best keep an eye out in case someone comes. But then she still plays along, and her boy is overjoyed to see his office mom play the kidnapped secretary!
| | |
| --- | --- |
| May 20, 2021 | Mom Natasha Flade Agrees to Son's Game & Is Tied Up in Barefoot Sweater Bondage! (FULL HD – 7:30 min) |

May 20 -- (FULL HD - 7:30 MINUTES) Your hot mom Natasha Flade promised to play a bondage game with you. When you approach her to cash in, you find her reading on the sofa, barefoot in jeans and a tight sweater. Natasha says she's too tired, but that she'll play your tie-up game so long as she doesn't have to get up off of the couch. You'd agree to anything to tie her up! So you eagerly agree to her conditions.

Your mom asks with a smile, "How do you want me tied up for this little bondage game of yours? What am I pretending this time?" You're not sure at first, but after a bit of prodding you tell her that you're a kidnapper. "Oh, I'm being held for ransom!" Natasha exclaims. She's already on her belly, so she crosses her hand behind her back at your request. Soon, we see that you have your mom all tied up on the sofa. Her hands and ankles are tied crossed. Her chest is bound to the sofa and her bare feet are attached to an opposite sofa leg, so she's tied stretched out with her beautiful soles on perfect display.

You mom Natasha has allowed you to cleave gag her with a soft, white scarf. She's gag talking to you about what she's playing today? Is she the bound and gagged damsel of a robbery? A kidnapping? A ransom? Whatever, it's so much fun to hear her gag talk! You watch her struggle playfully for you and wiggling her adorable feet. What a fun sweater bondage day with mom! You can't wait to tie her up again!
| | |
| --- | --- |
| May 13, 2021 | Aunt Natasha Flade Gag Talks Stories to Nephew Tied Up In Sweater Dress & Pantyhose! (FULL HD – 8:45 min) |

May 13 -- (FULL HD - 8:45 MINUTES) Your Aunt Natasha Flade is babysitting you today. You've got her all tied up again (your favorite thing!) She's tied seated, bound to the dining room table leg. She's in a long, tight, turtleneck sweater dress and pantyhose. Her hands are tied behind her, her stocking-clad feet are tied crossed. Chest ropes keep her secured to the table leg (and make her boobies stick out even more!)

You ask her if she's ever played any tie-up games before. Aunt Natasha laughs, then she launches into a detailed story about the time how she was all tied up by her other nephew. When she gets to the part in the story about being gagged, you get the idea she needs to be cleave-gagged now, too! So she gets a bandanna scarf between her lips. She continues with her tie-up stories, but now they're all in gag talk!

The camera maneuvers all about your hot aunt while she spins her tale about all the bondage games she's played. And Aunt Natasha can really talk a lot, gagged and all! You don't mind. You love listening to her gag talk stories to you while she's bound and gagged in her stockings and turtleneck dress. This is MILF bondage video at its finest!
| | |
| --- | --- |
| May 6, 2021 | Nerdy Babysitter Quimm Anaheim With Glasses Chair-Tied in Pajamas By Gang of Boys! (FULL HD – 6:30 min) |

May 6 -- (FULL HD - 6:30 MINUTES) Cutie pie babysitter Quimm Anaheim (with glasses!) is in charge at a boys' sleepover. She's barefoot and in pajamas when she's approached by the gang about playing a game. They want to tie her to that chair she's sitting on! Quimm laughs, but then agrees and holds out her hands to be tied in front of her. Soon, she's quite thoroughly chair-tied. They leave her barefoot, but apply lots of ropes above and below her tits, making her nip right out through her flimsy pajama top! Quimm puts on a good damsel in distress show for the gang of boys, but when she protests that this tie-up game should be ending soon, the boys run off!

Then those brats return — with some scarves! Poor Quimm is cleave-gagged to stop her complaints. She's a little mad at first, but she keeps on playing the game, struggling playfully at first. But when she protests that NOW the game must really be over, she gets double cleave-gagged instead with a thick scarf tied on top of the first one.

Now Quimm is getting REALLY angry. Especially when she catches one of the boys staring at her big tits, which they can't help but notice through her flimsy top! She calls them naughty little perverts, but that doesn't get her untied. Quimm is struggling for real now and yelling out in angry gag talk. It doesn't look like our nerdy babysitter will be getting any sleep tonight!