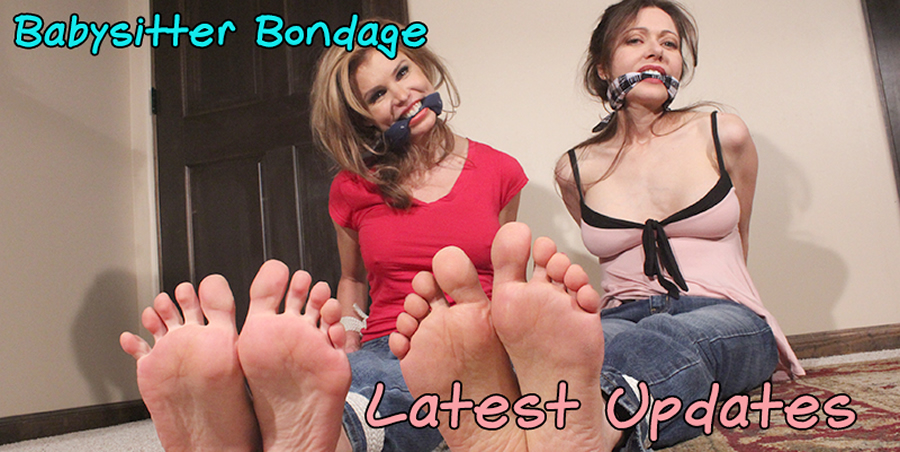 September 29, 2021

Danielle Trixie, the Babysitter Barefoot on the Sofa
(PHOTOS)

September 29 -- (PHOTOS & 700+ word STORY) The last time Danielle babysat me, she allowed me to hold her hostage as we watched a movie. She sat next to me on the couch with her hands tied up in front of her for the whole movie! I snuck peeks of her bound hands every couple of minutes or so. I was also fascinated by her pretty feet, but I didn't think I could get closer to them and I was scared to ask to tie her feet at the time. I "rescued" her during the credits. She thanked me for saving her at the end, which was really cool.

Mom went out again the following month and left me with beautiful Danielle. She suggested a movie and I suggested I take her hostage again. She smiled and said I was good last time. "You can tie me up again." ...

...There's MORE to this story, plus ALL the high-rez photos, if you buy a PASS!
| | |
| --- | --- |
| September 23, 2022 | Sexy Teacher Natasha Flade Chloroformed, Tied up in Boots & Ballgagged in Student's Fantasy (FULL HD - 9:30 min) |

September 23 - (9:30 min) NOW IN FULL HD! You're a student fantasizing about your sexy teacher Natasha Flade that you have a crush on. Your teacher is sitting at her desk in a sexy black dress and knee high boots. She's lecturing you about your constant daydreaming in class, but you're too busy staring at her legs in those sexy boots. Disgusted, Natasha finally tells you to go to class and she'll see you tomorrow. She returns to grading papers at her desk, then the phone rings. While Natasha is absorbed in a phone conversation, you sneak up and drop some chloroform in her coffee!

Your tutor hangs up the phone and goes back to sipping her coffee. She starts to feel woozy, tries to stand up but fails, then slumps unconscious in her chair. While she's out cold, teacher Natasha is tied up, wrists behind and ankles bound. You gave her a big, red ballgag, too! When Natasha awakens, she starts to panic! Why is she all tied up and ballgagged?

She starts struggling and crying. Then she notices you standing there, watching! She pleads in gag talk to be untied. She's angry at you for drugging her so you could tie her up like this! After a while of enjoying your beautiful teacher bound and ballgagged on the floor, struggling angrily, her damsel eyes wide and glaring. She's yelling at you from behind the ballgag, drooling down her chin. So, you soak another rag full of chloroform and knock her out again! What a bondage fantasy for you!
September 14, 2022

Aunt Natasha Flade Chair-Tied In Office Attire, Sock Gagged & Gag-Talking!
(FULL HD - 11 min)

September 13 - (11 min) NOW IN FULL HD! Your mom had a little emergency to attend to, so she called up your favorite Aunt Natasha Flade at her secretary job and asked her to pick you up and take you to her house. Aunt Natasha Flade is really hot and today she's all dressed up in her office attire: long black skirt, pantyhose and high heels. When you arrive at her place, you ask to play a tie-up game. Your aunt agrees and even encourages you! All excited, you get out your bag of ropes. You have quite a lot and you use every single one to tie her to that chair! Now Aunt Natasha's seriously chair tied: wrists bound to the chair arms, ankles and thighs tied, plus ropes about her lap and chest. She looks so great tied-up like that!

You run off, leaving Natasha bound to that chair and wondering where the heck you are. Then she hears you rustling about in her bedroom, looking for something to gag her with. You come back -- with a pair of her white socks! She's a bit surprised when you announce you're going to stuff them into her mouth! "You're not gagging me with my socks!" Aunt Natasha protests. But you threaten to run off and leave her all tied up, so she relents. However, there is a condition: you must promise to let her go soon -- or no more tying up Aunt Natasha ever again!

You agree and into her mouth those wadded up white socks go! Wow! She's sock gagged! Aunt Natasha chats away almost incessantly in gag talk, but none of her words are understandable with that huge wad of socks stuffed in her mouth. All her gag talk sends you to heaven. Natasha Flade is truly the greatest Aunt in history! She's so hot all tied up and gagged in her pantyhose and high heels!
| | |
| --- | --- |
| September 8, 2022 | Babysitter Chloe Night Chairtied, Barefoot, Feet Tickled by YOU! (FULL HD - 8:50 min) |

September 8 - (8:50 min) NOW IN FULL HD! Shot POV style through your eyes! Chloe Night is your babysitter tonight! She's cool with your tie-up games, so it should be a really super-fun night with your parents away. She's on a chair in the living room in her jeans, tank top and tennis shoes. She listens as you explain the game, smiling. She knows you always want to get her tied up for these games. But she thinks it's cute, so Chloe holds her hands out to be tied.

Now you have her chairtied! Chloe thinks it's funny and laughs. She's having fun! You want to pretend that Chloe is your hostage like you saw on TV and she obliges. Her damsel acting is overdone and a bit cheesy, but that makes it all the better. You know you have her all helpless, but she doesn't realize that yet. She still thinks she can get loose from her bonds whenever she wants. She doesn't know you've been practicing your rope-tying skills..That's fine with you because you want her to keep playing along when you ask to give her a cleave gag. So you ask and Chloe's OK with that too! She thinks that's fun, too!

She keeps playing along until you go to take off her tennis shoes. Now Chloe's getting a bit upset and gag talks that is NOT part of the game she agreed to! It's just too tempting, so you go for it anyway. You have her all tied up and you MUST see her bare feet! You're sure they're lovely! You tie her bare feet to another chair, so her soles are on display, sticking right out at you. Chloe keeps asking you why you did this, why do you have her feet tied up like this?

She soon finds out when you start tickling her feet! She screams with peals of laughter and begs you to stop. But you don't stop. It's way too much fun ticking your babysitter's feet while she's all tied up and gagged! Which is good for us, because we're treated to lots of great closeups of Chloe squirming in her bonds, her bare feet and soles wriggling as you're tickling her!
| | |
| --- | --- |
| September 1, 2022 | Babysitter Chloe Night Tied Up & Cleave-Gagged Barefoot in Pajamas After Losing Game! (FULL HD 8:10 min) |

September 1 - (14:30 min) NOW IN FULL HD! Your babysitter tonight is hottie Chloe Night. It's near bedtime and you guys are playing a board game and Chloe loses. What now? You tell Chloe that the loser has to get tied up! Chloe smiles and agrees. Now Chloe, in her tank top and pajamas (and barefoot) is tied seated and cross-legged on the floor, hands in front of her. She thinks it's cute and tries to get loose, laughing and having a good time with the game.

After wriggling around in the ropes for awhile, she gives up and says it's time to let her go and go to bed. Now you approach her with a gag, and Chloe is totally against that. "No. you are NOT gagging me. No…" She's pretty darn serious, but you take this once-in-a-lifetime opportunity to GAG your hot, tied up babysitter! She's now cleave-gagged and angry. And boy, does she gagtalk! She fusses and gagtalks and threatens to tell your parents. But it's all worth it to see your pretty babysitter bound and gagged!
| | |
| --- | --- |
| August 25, 2022 | Tutor Natasha Flade & Mom Dahlia Hunter Tied-Up Back-to-Back in Pantyhose and Cleave-Gagged! (14:30 min) |

August 25 - (14:30 min) CLASSIC BABYSITTER BONDAGE FROM 2004 RE-EDITED FROM SOURCE TAPE! It's been your dream to get your mom Dahlia Hunter and sexy tutor Natasha Flade tied up and gagged in some game, and now that chance is nigh. They promised you could tie them both up if you got your grades up and you did it! This babysitter and MILF bondage clip from "The Tutor" opens with these MILFs looking at your report card with approval. You casually mention "the deal" that had been made a while back, and they acquiesce to play your game RIGHT NOW!

So you pull a pretend gun and order them to put their hands up. They do, acting like helpless damsels. You have them stand side-by-side and cross their wrists behind them. We cut to their hands bound and mouths cleave-gagged. You tell your pretend captives that you have to hide them, so you'll march them upstairs, one-by-one! You start with your mom Dahlia and walk behind her up the stairs to the bedroom and she sits down on the bed, as ordered. You do the same with your tutor Natasha, and now you have these two tied-up damsels seated side-by-side and cleave-gagged!

Next you have your mom and tutor tied back-to-back on the bed, the gags still in their mouths. Their legs (in pantyhose!) are bound above the knees and at their ankles, their hands bound below each other's breasts. It's a sight you've dreamed of forever! You leave your captives to struggle, but you hear them gag-talking about you, out of character, so you holler for them to get back to mmphing like the damsels they are! And they do! They struggle like that, tied together in pantyhose and sweater bondage, until they fall over on the bed! They call for you through their gags! You have to rescue them from their fallen position!

Lots of cute outtakes and bloopers at the end!
| | |
| --- | --- |
| August 18, 2022 | Your Mom's Hot Friend Natasha Flade Gag-Talks Stories Bound Barefoot in Jeans and Cleave-Gagged (FULL HD – 8:50 min) |

August 18 - (8:50 min) NOW IN FULL HD! Ms. Natasha Flade, your friend's hot mom, is watching you and your brother for the evening. You have her bound and gagged on the floor, barefoot in jeans and a tight tank top! Her hands are tied in front and roped down to her thighs. Her ankles are tied crossed and her bare feet and soles are sticking right out at you! She doesn't even mind that you have her cleave-gagged with a bandanna, too. So you ask Ms. Natasha if she's been tied up before. She laughs and says, "I know my son told you I let him tie me up!"

Then Natasha just starts going on in gag talk about all the times her son has tied her up! And it's a lot of times! She tells you how it all started, the first time her son, Johnny, wanted to play a game he'd seen on TV, how he held her up with his toy gun and tied her to a bedpost just like in the Western on TV. She goes into lots of detail about this first game and how her son came back and now he was the sheriff come to rescue her!

Now Natasha doesn't know that you boys already knew all about this — Johnny told you guys that he gets to tie her up all the time and that she'd let you tie her up, too! This got you so excited you could hardly wait for your parents to get out of the door! So here she is, your best friend's mom all tied up and cleave gagged on the dining room floor in her jeans, her pretty bare feet and soles on display. You boys listen with rapt attention as MILF Natasha Flade animatedly tells you all her stories in gag talk — giving all the details (and they're quite exciting!) about all the tie-up games she plays with her son!
| | |
| --- | --- |
| August 11, 2022 | Tutor Natasha Flade & Mom Dahlia Hunter in 3 Babysitter Bondage Fantasies: Stuffer Gag, Cleave-Gag, OTM Gag! Tied in Office Wear & Boots! (4:35 min) |

August 11 - (4:35 min) CLASSIC BABYSITTER BONDAGE FROM THE HIT MOVIE THE TUTOR RE-EDITED! Last time, you had your tutor Natasha Flade tied up on the floor and cleave gagged in her sweater and knee-high boots for your babysitter bondage game. Now your mom Dahlia Hunter comes home from her office job and finds her like that! She says if you get your grades all the way up to an A-, then you can tie them BOTH up! Wow!

This sets off your fantasy of three different ways that you have your mom and your tutor all tied up and gagged together in babysitter bondage! First, they're standing with their hands bound in front, their mouths filled with white stuffer gags! Your mom is wearing her office suit, pantyhose and heels. Natasha's still in her long skirt, pink sweater and boots. They gag talk and plead to be released! You LOVE it!

Next, you fantasize that they're tied up back-to-back, standing, cleave-gagged with bandannas. Their hands are tied at their sides and to one another's hands! Outstanding!

In the last scene, your mom and tutor are chairtied side-by-side and OTM gagged, their hands tied in front and bound to their thighs. Your fantasies of these scenarios are limitless! They look pleadingly at YOU, right into the camera, their damsel eyes wide, as they plead to be released. But you don't want to do that! You could fantasize about your hot mom and tutor bound and gagged together all day long!

Outtakes and bloopers at the end of this creatively-shot POV-style babysitter and MILF bondage video!
August 4, 2021

Connie the Weekend Babysitter!
(PHOTOS)

July 29 -- (PHOTOS & 900+ word STORY) Mom and Dad took off for the weekend and left me with Connie, one of Mom's friends. I really didn't mind too much. She's cool, but seriously, she's really hot. Tall and blonde and big boobs. She pretty much allows me to do whatever I want. But I never had to guts to have her play a tie-up game with me. I sure thought about it a lot, seeing her all tied up and gagged, maybe to chair in the dining room, or to a post in the basement…didn't matter where or how I soooo wanted to see her all tied up! But I figured I'd have to stick to just thinking about it. Which I did. A lot.

So, after bedtime she tucked me in and I noticed she had a lot of makeup on and smelled really nice. It didn't hit me until she said goodnight and closed the door that something was amiss. Usually all the makeup comes off at night, not on. But she really looked pretty, and I imagined she had a gag stuck between her lips and I fell asleep with a smile.

...There's MORE to this story, plus ALL the high-rez photos, if you buy a PASS!
July 28, 2021

My Sister Enid Home from College and Chairtied!
(PHOTOS)

July 29 -- (PHOTOS & 800+ word STORY) My older sister came home from college for the summer. She wasn't able to visit for Christmas since she was overseas and it was too expensive. So, hadn't seen her in almost a whole year. She was super-happy to be home and we all, me, Mom, and Enid, went out for a big dinner that night. Mom even allowed her to have drinks, even though she really wasn't old enough yet. Mom just kept ordering glasses of wine and they shared the glass so no one would raise an eyebrow.

Well, we ended up taking an Uber home. Mom hugged us and went to bed. Enid and I stayed downstairs to watch a movie. It wasn't long before she fell asleep on her side. Looking at her, I remembered vividly the times we played a few tie-up games. I always wanted to try it again. I was afraid she would laugh at me and call me a pervert if I tried again. Watching her sleeping I slowly gathered some courage. I picked up her hand and dropped it. She didn't move. She's always been a heavy sleeper and the wine was helping this time.

I went upstairs to get some ropes. I set up a chair in the loft. I went back down and she was still sleeping...

...There's MORE to this story, plus ALL the high-rez photos, if you buy a PASS!
| | |
| --- | --- |
| July 22, 2022 | Aunt Natasha Flade Tied Barefoot in Pajamas, Gets a Lemon Gag from Nephew! (FULL HD – 5:35 min) |

July 22 - (FULL HD – 5:35 min) BABYSITTER BONDAGE VIDEO NOW IN FULL HD! You get to spend the weekend with your favorite Aunt Natasha Flade again! When you get there, your aunt is barefoot and wearing cute pajamas. She asks you why haven't asked to tie her up yet? After all, school is out and it's getting close to your bedtime. She coaxes you by saying, "I had loads of fun when you had me all tied up and gagged all those other times, so I want to play again! Go get your ropes!"

How can you resist an invitation like that? You can't! And so your Aunt Natasha ends up all tied up on the floor in her pajamas, her bare feet (and boobies!) sticking right out at you! You really love watching as she wiggles her soles all around. Natasha is pretend struggling, playing up her damsel in distress role, and begging to be released, since these "robbers" kidnapped her!

Then you say that a real robber would have gagged her, too! Let's see, what can you use to gag your Aunt with? You know! A fruit gag! A lemon! A huge lemon in particular! Natasha isn't keen on you gagging her with a lemon, of all things. But she can't exactly stop you since you have her all tied up. Her eyes grow wide when you shove that huge wedge of lemon right into her mouth.

Aunt Natasha is cool, so she keeps playing your game, pretending to the helplessly bound and (lemon!) gagged victim of a robbery. You really love how well she plays her part, so you just sit back and watch her as she's playfully struggling and wiggling all around, her lovely soles pointing right at you. The chest ropes make her boobies even bigger, plus she's nipping out through that flimsy, pink tank top she likes to wear to bed. Oh my, you love it when your Aunt Natasha Flade is your babysitter for the weekend!
| | |
| --- | --- |
| July 15, 2022 | Barefoot Nanny Natasha Flade's Feet Tickled After Chairtied in Tape Bondage by Boyfriend's Sons! (12:10 min) |

July 15 -- (12:11 min) RE-EDITED FROM THE ORIGINAL 2007 TAPES! Creatively shot in a unique POV-style from YOUR point of view! Nanny Natasha Flade is watching her new boyfriend's boys for the day, barefoot in jeans and a cute ski top. You boys approach and ask to play a game of "spy" where she's the bad spy who gets taken prisoner and tied up by the good spies (YOU!). Natasha laughs and goes along, throwing her hands up in pretend fear. She's soon chairtied with her hands behind the chair back, her bare feet bound and lap ropes.

Now it's time to gag her! Natasha promises she'll be good and you don't have to do that. But you don't listen and your nanny winds up with a huge gag! Her mouth is stuffed with cloth and she's tapegagged with tons of duct tape on top! She's not happy about this state of affairs and protests vehemently in gag talk, but you can't make out what she's saying because you tapegagged her well!

Being the naughty boys that you are, you secure her to the chair with yards of duct tape and electrical tape wrapped everywhere. She's truly helpless now! You guys leave and Natasha mmphs and struggles hard in her tape bondage, rocking that chair back and forth so hard she nearly breaks it!

When Natasha's boyfriend, Isaac W., returns home, he finds Natasha all taped up to the chair! Natasha tries to tell him to get her out of this mess, but Isaac's boys have his new girlfriend just the way he likes her! He decides to take advantage of the situation and uses a knife to cut holes in Natasha's shirt so her boobs poke out. Then he starts fondling and kissing her tits. Natasha is getting annoyed, but she's helpless to do anything and Isaac is having a really great time!

He grabs another chair and props Natasha's bare feet up on it. He ropes her ankles to the second chair, her soles sticking right out. How tempting they are! Isaac starts tickling Natasha's feet. Being extremely ticklish, she's squirming all over the place and wiggling her bare feet and soles around frantically! She doesn't like being tickled! But Isaac just laughs; he's having the best day of his life with his new girlfriend! He leaves to go see what his two boys are up to, leaving Natasha bouncing and scootching her chair about in her efforts to free herself. She's not getting very far, though, which is okay with us!
July 7, 2021

Cousin Phil Tied Up Mom (Darby O'Reilly)!
(PHOTOS)

July 7 -- (PHOTOS & 1000 word STORY) My older cousin Phil came over for the weekend as my aunt and uncle took off on a getaway. Phil's 12 and I'm 9. We always got along okay, and this is the first time he'd be staying over for a whole weekend. He's spent the night before, but never two nights in a row. Mom had a few things planned for us, like the zoo on Saturday. It was cool.

That night I went to bed after all of us watched a movie on Netflix. Phil has a later bedtime than I do, It looked like him and mom were going to watch something else. I was a little jealous, and mom doesn't budge on bedtime. Ever.

Since it was a long day, I fell asleep as soon as I laid down. I woke up to pee and when I was in the bathroom, I could hear mom and Phil giggling downstairs. It was now past Phil's bedtime, too. Now I was really jealous. I went to the top of the stairs. I could hear them talking. Mad I marched down the stairs to declare the unfairness of everything. At the landing I could see they were in the dining room. Mom was seated on the floor, back against a table leg. Phil knelt at her feet. What was going on? This looked weird.

...There's MORE to this story, plus ALL the high-rez photos, if you buy a PASS!
| | |
| --- | --- |
| June 30, 2022 | Mom Natasha Flade & MILF Kordelia Devonshire Tied-Up Barefoot in Robes, Molested & Tickled by Jasmine! (8:10 min) |

June 30 -- (8:10 min) RE-EDITED FROM THE ORIGINAL TAPES! From the 2007 feature movie "Tied-Up Babysitters." In part 1, Mom Natasha Flade and her friend MILF Kordelia Devonshire (the babysitter with the huge tits!) were tied up barefoot in robes and suffer-gagged by Natasha's son for a game of hostage. Now enters your old babysitter, Jasmine Taliana, and finds them like this. She admonishes the two MILFs and says they're naughty and must be punished.

As she's teasing Natasha and Kordelia, YOU (the son) stroll in and ask if Jasmine wants to play hostage, too. Jasmine says that wasn't part of the deal and hands you some cash so you can head out to the movies. But you'd really like to stick around instead. Mom Natasha gag talks, "You can tie us up again later!" Awesome! So you head out to the movies, leaving your mom and babysitter alone in bondage with Jasmine. They're getting anxious. Why'd she send the kid off? What's she planning?!

Jasmine has two scarves with her and she wraps those over the ball-stuffer gags they already have. Now there's no spitting out the gags! Jasmine pulls out both MILF's boobs and gropes them. She runs her hands along their thighs, molesting them. Natasha's robe falls off – she's not wearing panties! They're getting a bit upset now. As she's fondling Kordelia's tits, Jasmine reveals this is all revenge for when they found her tied up by Natasha's son and molested her! Then she tickles the soles of their bare feet. They giggle behind their huge wrap gags! Jasmine's relentless with the tickling!

A couple of bloopers and outtakes at the end!
| | |
| --- | --- |
| June 25, 2022 | Mom Natasha Flade & MILF Kordelia Devonshire Tied-Up Barefoot in Robes in a Hostage Game (5:45 min) |

June 25 -- (5:45 min) RE-EDITED FROM THE ORIGINAL SOURCE TAPES! From the 2007 DVD Feature Movie, "Tied-Up Babysitters." Kordelia Devonshire, blonde with huge natural tits, sips her morning coffee in her little silk robe while visiting her Friend Natasha Flade's house. Natasha's son strolls in (from your POV, so this is YOU doing POV bondage!) and asks if she wants to play "hostage." Kordelia tells you that your mom said you weren't supposed to be tying up the babysitters. You reply that she's not technically a babysitter. She laughs and goes along with the game as you pull out a toy gun and order to seat herself on the floor and cross her hands behind the table leg.

Kordelia is now all tied up and barefoot, with chest ropes encircling her prodigious chest. In walks mom, Natasha Flade, in her flimsyrobe. You pull the toy gun on her! She smiles and acquiesces to the game, knowing she'll be tied-up next to her friend. She sits and crosses her wrists behind her. Now you have two MILFs tied-up and barefoot!

But they keep chatting, so you announce that they have to be gagged. They act like they don't want the gags, but you know they're only acting. Mom Natasha giggles as MILF Kordelia is gagged with a sponge ball, and Kordelia laughs through her gag as Natasha's gagged! Now you have your mom and babysitter both tied up together and stuffer gagged! And their lovely soles on display, too! What a dream come true!

But wait, there's more! Jasmine Taliana comes in and finds them! She admonishes the two MILFs and says they're naughty and must be punished. Natasha and Kordelia look at each other anxiously. What exactly is Jasmine planning?! Find out next week!
| | |
| --- | --- |
| June 16, 2022 | Mom Natasha Flade & MILF Kordelia Devonshire Tied-Up Barefoot In Son's Bondage Dreams (6:45 min) |

June 16 -- 6:45 min) Re-edited from the original 2007 tape! From the barefoot babysitter bondage movie "Tied-Up Babysitters," this re-engineered clip returns to get your blood flowing! Hot mom Natasha Flade's son dreams of roping up both her and her friend, super-busty blonde MILF Kordelia Devonshire! This is three different scenes of the two MILFs tied-up together and gagged, struggling and gag talking!

Three gags are involved. They're OTM gagged, cleave-gagged, and stuffer-gagged with larges wads of white cloth. In the first scene, mom Natasha Flade and MILF Kordelia Devonshire are barefoot and wearing denim miniskirts. They're OTM gagged with bandanna scarves. In the second scene, they're in jeans, their bare feet and soles propped atop a coffee table and they're knotted cleave-gagged.

In the third scene, both ladies are tied up on the bed in pajamas with huge stuffer gags in their mouths. They're attached to each other with rope wrapped about their chests. There are lots of closeups of their soles and their gagged faces!

Mom Natasha and her busty friend, Kordelia, playfully struggle, mmph and gag talk a lot. What a babysitter bondage dream! This kid really knows how to dream BIG!
| | |
| --- | --- |
| June 10, 2022 | Step-Mom Natasha & Hot Friend Chloe Strip to Heels & Hose for Your Bondage Game! (FULL HD - 16:30 min) |

June 10 -- (FULL HD - 16:30 min) Your step-mom Natasha Flade just got home from her office job. You ask her to play a game with you. But it's not just any game. You want her to strip down to just her pantyhose and heels and then let you tie and gag her on the floor. "So let me get this straight. You want me to strip down to nothing but my heels and pantyhose?" Natasha asks, embarrassed. "And you want to tie me up...and gag me, too?!" She laughs again, but oh my God, she says she'll do it! She insists the game be over before your dad gets home and that if anyone knocks on the door, you have to get rid of them!

Rather shyly, your step-mom starts stripping before your eyes. She takes off her sweater dress and then her bra. She sits down on the floor and crosses her hands behind her back so you can tie them up. Your amazing luck! Now your hot stepmom is frogtied and cleave gagged on the floor! She rolls around and gag talks, putting on quite a big show for you.

There's a knock on the door! Natasha is frantic! It's Chloe Night, your step-mom's friend. She sometimes babysat you when you were younger. Chloe is super hot and today she's wearing this sexy dress with pantyhose and spiked heels. She laughs when she sees you've got Natasha all roped up on the floor and commends you on getting her both tied up AND topless.

It turns out that Chloe actually encouraged you to do this when you confessed your fantasies to her. But now you want to see Chloe strip and can tie her up, too! Natasha tells her to go on since she started this whole thing in the first place! So Chloe agrees. Woo hoo! She starts stripping down to her heels and pantyhose and then lets you tie her hands and ankles.

Now you have both your stepmom AND her friend bound and gagged on the floor and gag talking to you. An amazing day! The two women squirm about and gag talk up a storm. They're having so much fun! Then your stepmom starts to confess some sexy desires this bondage is starting to have on her. With your stepmom and her hot friend both tied up topless in their pantyhose and heels, and going on about getting all turned on, you think to yourself, "Is this heaven?" Yes, it is!
| | |
| --- | --- |
| June 2, 2022 | Mom Natasha Flade Tied-Up Barefoot In Pajamas for Son's Escape Challenge Game (FULL HD - 10 min) |

June 2 -- (FULL HD - 10 min) Your best friend spent the night for a sleepover. You guys are just getting out of bed. You wander into the living room and see your mom, Natasha Flade, barefoot and still in her pajamas. She comments that she knows you guys were tying each other up. You just can't pass up this opportunity, so you challenge her to a game of escape. Mom Natasha laughs and says, "You know I can get out of anything." You challenge her by saying, "Prove it!" Your mom accepts the challenge, so you guys go and get some ropes so you can tie her up.

Natasha asks how you want her. You tell her to face the wall, kneel, and cross her hands behind her back. You want her to cross her feet, too. She obliges you, and her lovely soles take you and your friend's breath away! They're posed so perfectly! Now she's bound hand and foot, kneeling, ankles tied crossed with her perfect soles on display. What joy! Your mom struggles for you two boys, rolling and wriggling all about. But after a bit, she admits she's lost the escape challenge. Turns out she can't get loose after all!

You tell her that the loser's fate is that she has to stay tied-up even longer. And she has to be gagged, too! Natasha reluctantly accepts a cleave gag as a condition of losing the game. But she continues her escape attempts, trying to get loose and gag talking all the while. She even trash-talks your gag, saying that it really isn't very effective. It isn't? You can fix that! So you add a few layers of cloth over the cleave gag for a thick OTM gag. Now mom is much quieter. She still makes some awesome mmphs!

You watch her for a while, but now mom starts getting a little bit mad. She thinks this game has gone on long enough and it's time to let her go. But you don't untie her! Natasha is determined not to lose this time! She manages to stand up (with her bare feet tied crossed, no less!) and starts hopping towards you guys - all tied up in her pajamas! What a sight!
| | |
| --- | --- |
| May 26, 2022 | Secretary Aunt Natasha Flade Gagtalks for Nephews, Hops Away Tied Up In Heels! (FULL HD – 7:16 min) |

May 26 -- (FULL HD - 7:18 min) Aunt Natasha Flade was sitting on the bed, after a long day at the office as a secretary, when her two nephews took some rope and tied her up. She's still in her miniskirt, pantyhose and black high heels. Every time she has her favorite nephews over they want to play some sort of game where she ends up all tied up, and secretary Aunt Natasha always agrees.

Today she asks them why is it that every time she has her two favorite nephews over they want to play a game where she ends up bound and gagged. Much to Natasha's surprise, she's informed that they just like seeing her all tied up! Now Aunt Natasha is pretty embarrassed. She starts to question her little dirty-minded nephews as to whether these "games" ought to stop. What if their mom finds out?! She gets rewarded for her protests by being cleave gagged with a thick scarf! But this doesn't stop Aunt Natasha! Oh no! She starts going on and on - and discovers these two boys love hearing her gag talk, too!

She entertains them for quite some time, tied up on the bed and gagtalking up a storm! After a while, she says it's time for them to let her go, but they don't untie her! So she informs them that she's going to hop outside and scream for help until the neighbors come! Her two nephews don't think she'll really do it, but they underestimate her! Aunt Natasha Flade starts hopping right out of the bedroom, even though she's tied up and wearing heels!

"Catch me if you can, nah nah!" she taunts, then she hops out of the door and down the hallway, laughing and having one heck of a great time! Oh, Aunt Natasha Flade is so much fun when she lets the boys tie her up! And it's fun for her, too!
May 19, 2022

Tutor Natasha Flade Plays Ransom Game with YOU in Boots and Sweater!
(10:30 min)

May 20 -- (10:30 min) CLASSIC BABYSITTER BONDAGE FROM THE HIT MOVIE THE TUTOR RE-EDITED! Looks like you aced the quiz your tutor Ms. Natasha Flade gave you. She promised that if you got a 100, she'd play any game you want. You tell her you want to play kidnap and ransom! She's cool with that and now you have your beautiful tutor tied up and gagged! She's seated on the dining room floor, hands bound behind one of the table legs, and more rope wrapped around her chest, thighs, and her black boots! Natasha's cleave-gagged, too. You have your hot tutor all tied up in teacher bondage!

As you stand over her in this POV bondage perspective, you tell her that someone better get the cash, and she gag talks that they will. You leave to get the ransom loot, leaving your tutor bound and gagged on the floor. But you sneak back for peeks of her struggling in the sweater bondage that she's in, pretending to be a real kidnapped damsel! She mmmphs through that gag and wriggles around! Best tutor in history!

Then your mom (Dahlia Hunter) comes home early to find that you have your tutor all tied up on the floor. She thinks it's funny, knowing that's your favorite game. Then you come wandering back in. You want her to play your ransom game, too! Your mom and Natasha are a bit surprised, but to your great delight, she says that if you get your grades all the way up to an A+, then you can tie them BOTH up!

Outtakes and bloopers at the end!
May 13, 2021

Sister Chastity & Her Friend Dianni Agree to be Tied Up for My Movie Script!
(PHOTOS)

(PHOTOS)

May 13 -- (PHOTOS & 1200 word STORY) My older sister Chastity plays my tie up games sometimes. She knows how much I love them and thinks I'm a little weird. I'm okay with whatever she thinks as long as I get to tie her up! She was home from college a few weeks ago with her friend Dianni, and man, that Latina girl had me staring at her the whole time. She caught me once when she was chatting with my sister in the kitchen and she winked at me. I fled to my bedroom to curl up and die from the embarrassment.

The next time Chastity came home a few weeks later Diani was with her again. Torn between wanting to hide in my room and hang out and sneak peeks at her, I finally overcame my embarrassment and sat at the table with them and pretended to play a game on my phone. Of course, I couldn't help glancing at Dianni, but more cautious this time. Chastity left for the bathroom, and Dianny turned to me. "So, I hear you're a writer working on a movie script."

Chastity told her? What else did she tell her friend? "Yeah, I guess. I haven't got too far with it yet."

"That's too bad. Did your sister tell you I'm a drama major? We should act out some of the scenes!"

Something weird was going on. I was suspicious, yet excited. See, mom plays my games, too, and I was writing this script to get them both tied up together. As a test for the idea I had told Chastity about it. To Dianni I said, "Okay, someone in a small town gets murdered, but the sheriff says it was an accident. His wife hires a private investigator and when they meet at her house, someone breaks in, and…"

"This sounds great! Do want me and Chastity to play the wife and the detective? We could do the scene where we first meet, and go from there! Print out copies!"

...There's MORE to this story, plus ALL the high-rez photos, if you buy a PASS!
| | |
| --- | --- |
| May 5, 2022 | Nanny Natasha Flade Plays Kidnap Game with YOU, Chairtied Barefoot in Sweater Bondage! (FULL HD – 5:15 min) |

May 5 -- (FULL HD – 5:15 min) In part 1, your barefoot nanny Natasha Flade was watching some little guys in this POV-style video She was reading a book, sitting on the bed, wearing a sweater and jeans. You boys approached her with a toy gun and held her up. Your pretty nanny Natasha smiles. She knows how you love these kidnap games! And soon she was bound hand and foot on the bed, her soles sticking right out at you! But she adds a condition: "You can tie me up…but just for half an hour!"

Now, in part two, nanny Natasha pulls her OTM gag off and asks if the half hour is up now. It's not, you tell her. You don't want to let her go just yet. It's too much fun watching her squirming, wriggling and mewing. "What? You want to tie me to a chair now?" Natasha asks with her amazing damsel eyes. Yes, you do!

So now you guys have your hot nanny chairtied barefoot and cleave-gagged with a green scarf. And you used a lot of rope, too! There's rope wrapped about her chest and around her lap. Those chest ropes make her tits look even better in that sweater! Natasha struggles like a real kidnapped damsel would because she knows you like it! She wriggles about rather invitingly in her sweater bondage and jeans, her bare feet gorgeous. Closeups of her bound feet and gagged face make for such a delicious babysitter bondage video!
NEXT PAGE