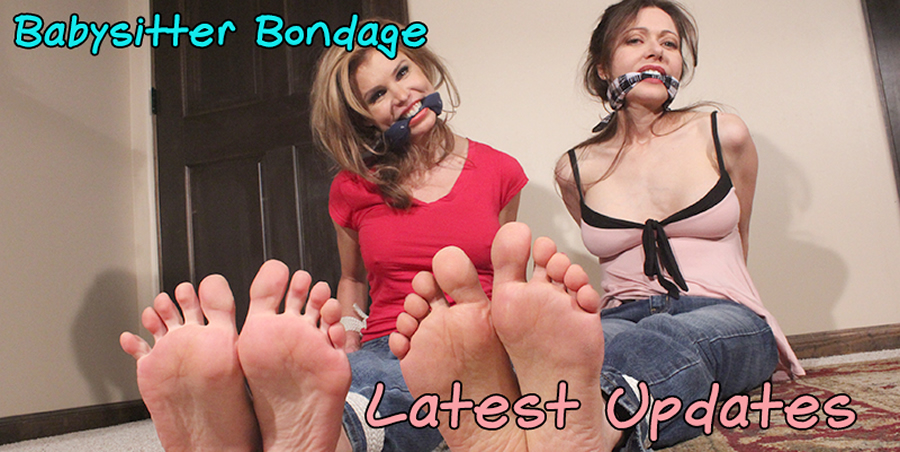 | | |
| --- | --- |
| April 7, 2023 | Mom Natasha Flade Plays Escape Game Just Like on TV! Hogtied & Bare Feet Tickled by Son! Boyfriend Returns to Fondle Her! (12:37 min) |

April 7- (12:37 min) CLASSIC BABYSITTER BONDAGE FROM 2007! RE-EDITED FROM SOURCE TAPE FOR HIGHEST QUALITY! You approach your hot mom Natasha Flade, who's wearing a sundress, barefoot, feet up on the coffee table, her soles pointing right at you! You ask if you can re-enact a TV show you saw about a tied-up escape artist who. Being the cool mom she is, Natasha says, "Go get your ropes!" Now your mom is strictly hogtied, her elbows bound and extra ropes around her legs, her bare feet wiggling delightfully in the air.

Then you tell her it's time for the gag. Your mom can't believe that the girl on TV was gagged, but she winds up cleave-gagged with a two piece ensemble: a white folded cloth with a thin scarf holding it in! Now that mom's hogtied and gagged, you tell her to go ahead and try to get loose, just like that escape artist girl on the TV show.

Natasha puts on a really good show of trying to squirm and struggle loose from her bondage. But when mom gives up, you grab a feather duster and attack her bare soles, making her laugh through her gag from all that tickling! Next, you get some tongs with ice and rub them all over her bare feet! Mom screams through her gag, her bare feet (and the rest of her) wiggling non-stop! But she still can't get loose and admits she loses the game.

Then you hear her boyfriend coming home! You tell her he can untie her and run off! Natasha's boyfriend, Isaac, finds her hogtied on the sofa and wants in on the fun. He pulls down the top of her sundress and fondles and kisses her tits. This was a really nice thing to come home to! After he's done having fun with his girl, he leaves her there a little longer to enjoy her barefoot hogtied struggles.

Includes outtakes at the end! This scene from this classic, glorious babysitter bondage movie, Tied-Up Babysitters!
| | |
| --- | --- |
| March 31, 2023 | Sexy Teacher Natasha Flade (in Boots!) Handgagged, Chair-Tied, Photographed by Her Student! (FULL HD - 10:20 min) |

March 31- (FULL HD 10:20 min) RE-EDITED IN FULL HD! Your sexy teacher Natasha Flade is the object of your student fantasies, especially since she dresses way too promiscuously. Today, teacher Natasha is dressed all out in a backless cocktail dress and knee-high boots with pantyhose. Oh, she's the object of your deepest desires! She called you into her office and lectures you about your constant daydreaming. As she turns to grading papers at her desk, you drift off into another splendid bondage fantasy. Her back is to you, so you sneak up behind her and handgag her! Natasha is taken off guard to be handgagged like that!

In your fantasy, teacher Natasha Flade is wearing a sexy, red dress with boots and pantyhose. You've got your hot tutor strictly chair-tied and cleave-gagged, too! And does she ever look fabulous tied up like that! It's simply amazing for you, but Natasha doesn't agree! Instead, she's struggling furiously! She's moving and hopping that chair all over the place and screaming through her gag. She's clearly set on breaking that chair! Teacher Natasha looks at you, her damsel eyes wide and filled with anger which then turns to pleading as she begs to be released. But you don't let her go and so she continues to struggle like mad!

Well, she is mad at you, but you're a nasty student and enjoying it all. Eventually, you pull her gag from her mouth. "You've been daydreaming again, haven't you?" she says with disdain. You're not sure what she'll do but your bondage fantasies are totally worth any punishment you might end up getting! So you whip out a camera and take some photos of your sexy teacher all bound and gagged. This makes Natasha even angrier, and her struggling grows more intense and furious. But you just relish your bondage fantasy....and plan for the next one where she's chloroformed and ballgagged in part 2!
| | |
| --- | --- |
| March 25, 2023 | Mom Natasha Finds Babysitter Loren Chairtied & Joins In! Both Bound Seated, Bare Feet on Display and Gag-talking! (FULL HD - 11:30 min) |

March 25- (FULL HD 11:30 min) RE-EDITED IN FULL HD! In Part One, babysitter Loren Chance was watching Natasha Flade's two boys when they ask to play a tie-up game. She thinks it's cute and soon finds herself thoroughly chairtied and cleave-gagged, barefoot in jeans and a tight tank top. Loren plays along, hamming up her damsel role with playful struggling and lots of gag-talk. But the little brats take off and leave her! Loren's getting really anxious...What's their mom going to say when she comes home and finds her? Yikes!

Now in Part Two, Mom Natasha Flade comes home and finds the babysitter all tied-up and gagged by her sons! Loren is totally embarrassed. But much to Loren's surprise (and the boys!), Natasha asks her sons if they want to tie her up, too! Wow, this is just too good to be true! Both end up bound tied with their hands bound behind the legs of the dining room table, their bare feet tied crossed and on display. What joy! Their gorgeous barefoot soles wiggling in plain view! And chest ropes make their tits look extra delicious beneath their tight tops!

At first, they're not gagged and Natasha and Loren exchange stories about being tied up in other babysitting situations. Loren listens with a bit of amazement as Natasha goes on about how her sons and all his friends just love to tie her up! Later, her sons come back and cleave gag them. Loren thinks perhaps this ransom game will end soon as she's getting a bit tired, but no! Now mom and babysitter continue their chatter about other tie-up games from their past, only now it's all in gag-talk! Natasha and Loren love to talk so much that no gag could ever stop them!
| | |
| --- | --- |
| March 17, 2023 | Babysitter Natasha Flade (Barefoot in Robe) Tied in Jump Ropes for Game, then Gagged & Groped by Kid's Dad! (10:23 min) |

March 17 - (10:23 min) CLASSIC BABYSITTER BONDAGE VIDEO FROM 2006 RE-EDITED FROM THE SOURCE TAPE!
Natasha Flade is babysitting little Johnny on a snowy day. She's on the sofa reading a book, barefoot in her robe — and nothing underneath! Johnny's bored and wants to play a game called "cops and robbers," so he holds her up with a toy gun. Babysitter Natasha thinks it's cute, so she goes along with his game and soon finds herself bound hand and foot with jump ropes!

Natasha playfully struggles for her charge, with lots of closeups of her wiggling bare feet and soles. She looks into the camera at you with her lovely, wide damsel eyes, hoping someone will come along to save her from the bad "robber." Then little Johnny gets extra brave and manages to convince his nanny into letting herself be OTM gagged with a large dinner napkin. Natasha thinks that's cute, too, so she keeps on playing the game, pretending to be scared and put upon like a real damsel in distress.

But then Johnny takes off and leaves Natasha on the couch, all bound and gagged! Natasha is getting a bit angry now, so she's grateful when Johnny's father walks in. That is, until Dad decides to take advantage of the tied-up babysitter! He tries groping her tits through her robe, but Natasha starts to call out, so he decides she needs to be gagged a bit better. He takes the over the mouth gag and turns it into a thick cleave. Then he pulls Natasha's robe down and starts to grope and fondle her tits! When she cries out, he handgags her while he's feeling her up!

He pulls her bare feet into the air and spanks her naked ass a bit! Then he grabs the jump ropes and attaches Natasha's wrists to her ankles, roping her into a ball-tie. He gives the tied-up babysitter a few more feelies, then leaves her there like that, ball-tied barefoot, her naked ass and pussy on display. Our poor babysitter struggles hard for real now. This is not what she in mind when she agreed to play Johnny's tie-up game!
March 10, 2023

Chloe Night: Hostage Nanny

(PHOTOS)

March 10 -- (PHOTOS and 1200+ Word STORY)

Chloe Night, in her upstairs bedroom in the Panchak house packing her things, heard the dad arrive and his boys rushing to greet him. She'd just finished her first week of being a nanny to his boys, Simon, 9, and Fillip, 11. Mr. Panchak worked long hours during the week and needed a little help for the summer. She stayed over Monday through Friday and now it was time to head back to her own apartment.

As she descended the steps with her suitcase, the aroma of pizza filled the house. That's probably what the boys were really excited about. Mr. Panchak, sport jacket still on but tie loosened, stopped her on the landing, right before the front door. "Have a minute before you leave?"

Chloe sat her suitcase by the front door. "Sure."He motioned for her to follow upstairs. He sat heavily in his office chair in the den and indicated for her to take the other chair.

"So, just give me a quick report before you return Monday morning. Any issues? Anything I should know about?"

"Well…" Chloe gave him a rundown on a few minor things, like Simon's whining whenever they had to take a car trip. "Last thing, they tried to tie me up yesterday in some game." She chuckled. "I know that trick! I'm not going to be a bound and gagged nanny!"

"You're not the first they've tried that on. A year ago I came home to their babysitter tied hand and foot beside them on the floor, a bandanna over her mouth, watching TV."

Chloe smiled, "Well, glad I'm not the only one."

...There's MORE to this story, plus ALL the high-rez photos of hot nanny Chloe Night, if you buy a PASS!
| | |
| --- | --- |
| March 5, 2023 | Barefoot Babysitters Danielle Trixie & Carly Erin Play Pirates! Mom Returns for Fondling & Tickling! (17:30 min) |

March 5 - (17:30 min) CLASSIC BABYSITTER BONDAGE VIDEO FROM 2006 RE-EDITED FROM THE SOURCE TAPE!

This scene from "Tied Up Babysitters" is creatively shot POV-style. We begin with lovely barefoot babysitters, Danielle Trixie and Carly Erin, chatting on the sofa when the boy they're watching in comes in and asks to play a tie-up game called "pirates." The two girls think it's cute so they play along, throwing their hands up into the air when they're held up with the pirate's gun. As ordered, they put their hands out to be roped together and our two babysitters wind up bound hand and foot with a ton of sloppy ropes!

Their hands are tied in front and tethered to their thighs and more rope is tied about their waists, chests and arms. Their bare feet are tied atop the coffee table, their soles sticking right out at you! Beautiful blonde Danielle is cleave gagged while redhead Carly goes for being OTM gagged. The two babysitters play along, struggling playfully as your kidnapped damsels on the pirate ship! They gag talk and wiggle their bare feet and soles all about. They look so hot tied up like this, barefoot in their little miniskirts, their panties peeking out!

But then your mom (Natasha Flade) comes home and says it's time to go play little league. When you leave, mom decides to have her own fun with the babysitters! She turns Carly's OTM gag into a cleave, then adds more rope so they're tied up better. Danielle and Carly are bound together at their arms. Mom tells the girls they're the hottest babysitters her son has ever had and this is her favorite part of his games! The girls are a bit surprised when mom pulls their tops up and fondles their tits! But then they like it and go along.

Then mom ties their bare feet down to the coffee table so they can't get loose while she plays with their feet and tickles their soles. Danielle and Carly scream, laugh and wiggle as they're being tickled by your mom! Then she grabs a feather duster and tickles them with that, too! Their feet, their tits, everything! This is the most fun mom has ever had dusting!
| | |
| --- | --- |
| Febriary 25, 2023 | Hot Blonde Mom Candle Boxxx Plays Ransom Game with Her Son, Barefoot in Sweater Bondage! (FULL HD - 9 min) |

February 25 - (FULL HD - 9 MIN) RE-EDITED IN FULL HD! Hot blonde MILF Candle Boxxx is painting the living room wall, barefoot in her jeans and sweater, when her son approaches to ask about playing his favorite tie-up game called "ransom." Mom Candle says she'd love to play, but she wants to know how this ransom game of yours is supposed to go.

Oh, you want to tie her all up! Mom Candle isn't surprised on bit. She's onto your little bondage fetish. She listens as you tell her to sit down on the floor. "And keep your shoes off!" you inform her. (You like your mom barefoot!) Candle's then instructed to hold out her hands in front, which she does. Your beautiful mom smiles a lot because she really likes playing your tie-up games.

Now you have your mom bound hand and foot, seated on the floor, her bare feet and soles sticking right out at you! Her hands are tied in front and a lot of sloppy ropes are wrapped about her arms and (really large!) chest. MILF Candle plays her part of the helpless, ransomed damsel for you. She wiggles all about, just like a real, kidnapped damsel would. She's really good at it, too!

Then you ask if it's okay if you gag her, too. Much to your glee, your mom agrees! So now Candle has a white cloth wadded up and stuffed in her mouth. She gag talks while over-dramatically struggling and showing off her bare feet and soles. She knows you LOVE her barefoot! The gag talk goes on for quite a bit because she knows you really like listening to her muffled chatter. Then again, who wouldn't enjoy watching their hot mom Candle all tied-up barefoot on the floor and gagtalking!
| | |
| --- | --- |
| Febriary 18, 2023 | Tying Up the Sleeping Barefoot Babysitter Danielle Trixie! (FULL HD - 6:30 min) |

February 18 - (FULL HD 6:30 min) RE-EDITED IN FULL HD! Blonde and beautiful babysitter Danielle Trixie falls asleep on the sofa, barefoot in her little dress. While she slumbers, her hands are roped together by her charges! But she awakens when she feels her bare feet being tied-up, too! Her eyes open just a little, then she pretends that she's still asleep as her wrists are tied, too.

Danielle plays along with the boys' tie-up game, struggling like a real damsel in distress. She complains how tight the ropes are and how awful it is that the robbers are just going to leave her like this! So the "robbers" put an end to all this whining with a nice, tight cleave gag! Now our beautiful babysitter Danielle is tied-up barefoot, stretched out on the sofa with her bound hands pulled up above her head and tethered to the sofa legs. Her bound feet are attached to the opposite end of the sofa, keeping her pinned down.

Blonde Danielle puts on a good show for the boys, struggling and making little mmphs through her scarf gag. We're treated to lots of great closeups of her wriggling soles, her cleave-gagged face and her beautiful, wide damsel eyes. She plays along for your entertainment, but then Danielle says (in adorable gag talk!) that it's time for your tie-up game to come to a close. But you don't want to let her go! So you boys just keep on staring at your beautiful, blonde babysitter tied up barefoot on the sofa, just the way you like her!
| | |
| --- | --- |
| Febriary 12, 2023 | REAL LIFE Bondage Game! Babysitter Natasha Flade Bound Barefoot by the Boys in Her Sweater & Jeans! (FULL HD - 7 min) |

February 12 - (7 min) RE-EDITED IN FULL HD! This real-life babysitter bondage video was shot on a lark. Natasha Flade was just sitting on the chaise, barefoot in her sweater and jeans, when Isaac asked her if she'd mind playing out one of his babysitter bondage fantasies. Natasha agreed, so Isaac ran and grabbed the camera -- no lights, no script, no extra prep -- just a real life video for his personal bondage collection. Isaac told Natasha his fantasy and she just ran with it, adlibbing everything.

Here's how his fantasy goes: Two neighborhood boys have just finished shoveling the snow from Natasha's driveway. But when it's time to pay them, these boys don't want money. Instead, they want to play a "robbers" game where they get to tie her up, just like the games they used to play when they were little and Natasha was babysitting them. Now Natasha says she loves being tied up and fondly recalls all the times you tied her up before, but she thinks you are getting a bit too old for tie-up games. She likes indulging you, so she goes along and crosses her hands behind her back. She wonders aloud if you guys have been practicing. Yes, you have! Natasha winds up bound hand and foot.

Natasha laughs playfully as she compliments the two boys their tying skills, which sure are tighter than she remembers! She wiggles around, testing her bonds, and having fun. But now you guys want her gagged, too! Natasha smiles, but she wonders how you'll gag her now! She finds out when she ends up cleave-gagged with two thick wraps of a scarf.

Bound barefoot and gagged on the chaise, babysitter Natasha keeps on playing your tie-up game. She does a great job of acting out her part of a real damsel in distress, wriggling about and dangling her bare feet and soles over the edge of the chaise. There's lots of gag talk as she looks right into the camera at you with her beautiful, damsel eyes because Natasha knows that really turns Isaac on. (And you, too!)

But after a while, Natasha discovers that you two neighborhood boys aren't really interested in playing "robbers" at all. You just really wanted to get her all tied up in her tight sweater and jeans! Hmm, we think she knew that the entire time, but Natasha's not one to turn down a request to fulfill Isaac's real life bondage fantasies!
| | |
| --- | --- |
| Febriary 3, 2023 | Hot Aunt Danielle Trixie Plays Your Tie-Up Game, Barefoot, OTM Gagged and Hopping! (7 min) |

February 3 - (7 min) RE-EDITED! IMPROVED QUALITY AND SOUND! Hot Aunt Danielle Trixie is at babysitting you while your mom is away. You've always wanted to get your beautiful, blonde aunt all tied up in one of your little bondage games, but you've never had her to yourself before. Not only that, she's in her sexy sleepy shorts and a tight, itty-bitty tank top. Now is your chance! So you ask, and even though she argues that it's your bedtime, you persist until she says you can tie her up for 15 minutes!

You tie her hands in front of her and she plays along. Then you tie up her gorgeous bare feet. She's still playing along, so you go for it and give her a bandanna OTM gag. Oh my god! Aunt Danielle is STILL playing your game! She gag talks for you and pretends to be a real damsel in distress. She's so cool to put on a show like that for you.

When your 15 minutes are up, she wants the game too end, but you just take off and leave her all tied up barefoot and gagged on the bed! But Aunt Danielle calls you a brat and says she's coming after you! She gets up off the bed and starts hopping after you, tied up and all!
| | |
| --- | --- |
| January 26, 2023 | Hot Mom Natasha Flade Asks to Be Tied-Up In "Gangsters" Game Or She'll Call the Cops! (FULL HD – 7 min) |

January 26 - (7 min) NOW IN FULL HD! Hot mom Natasha Flade enters the living room and asks her boys and their friends what they're up to. They tell her that they're playing a game where they're a bunch of bad gangsters. Mom Natasha teases and says that she's going to run off and call the cops on them. When they ask her not to, she says, "Well, you'd better tie me up or I'm going straight to the cops!" She adds that she's serious, it's okay to tie her up, and they better go grab some ropes out in the garage to tie her up with!

So your hot mom Natasha winds up seated on the coffee table, barefoot, in her jeans and t-shirt, with quite a lot of rope tied about her. She's bound hand and foot, her wrists tied behind her back, her ankles and thighs bound. And you wrapped a ton of ropes about her chest, too! "You gangsters have me tied up really tightly!" Natasha remarks as she wriggles, tugging at her bonds. She won't be going to the cops now, so you boys can carry on with your criminal activities. She says she'll stay quiet because she knows you'll just stick some huge gag in her mouth. Mom makes a great damsel in distress for her sons and his friends, struggling and playing her of the damsel kidnapped by a bunch of bad guys.

But then the "gangsters" decide it's time to leave and they absolutely must gag her. Natasha says she can just pretend, and demonstrates by closing her lips and "mmmphing" like she's gagged. But you guys don't think that's good enough, so mom relents to the addition of a real gag and opens her mouth wide. Her mouth is stuffed with a white cloth and we get to see her like that for a little while before she's OTM gagged with a huge scarf wrapped twice over that to keep it in, so now she's really gagged!

And she's been tied up even more, too! You boys scooted her back on the table and tied her so her lovely bare feet and soles are hanging off the table on display! You added even more rope to keep her that way! Her ankles a tethered down to a table leg and a ton of ropes are tied about her thighs, securing her to the table.

A cute outtake included at the end!
| | |
| --- | --- |
| January 21, 2023 | Nanny Natasha Plays Hide-n-Seek Hopping Toe-Tied, then Made to Watch TV Bound Barefoot, Gagged, Dirty Feet Up On Table Top! (FULL HD – 16:15 min) |

January 21 - (16:15 min) NOW IN FULL HD! Nanny Natasha Flade is your live-in babysitter. She always has dirty feet because she LOVES going barefoot! You're watching a movie with your little brother when she comes in wearing a tank top and jeans, her hair in a ponytail. She says you should play a game of hide-n-seek like when you were little. It was your favorite game, even though you were always terrible at it! You don't want to play because you think you'll lose anyway. Natasha teases, "Yeah! I could probably find you guys with my hands tied behind me!"

She was joking, but you take her up on her offer! Her hands are tied crossed behind her back, her ankles tied together. Now she's bound hand and foot, seated on the floor, her dirty feet sticking right out at you! She's laughing and having a good time, so you tell her you want to tie her big toes together, too! She's worried she might fall, but you talk her into it. Now she's toe-tied, too!

It's time to start Hide-n-Seek! Natasha closes her eyes and counts while you hide. She has to find you by hopping around while toe-tied! She's hopping up and down the hallway, looking in all sorts of places. But your hiding is still really bad and she finds you! She wants to play again! You say only if she's handicapped by being tied up even tighter! Nanny Natasha relents, hops over to the sofa, puts her dirty feet up on the coffee table and allows herself to be tied up even more. You guys do a really good job! She tied at the thighs and calves and chest ropes make her tits look even hotter in that tight tank top. She's not getting loose now!

Then Natasha notices you two brothers staring at her bare feet. "I know you guys have a foot fetish," she teases. Embarrassed, you suggest that instead she should watch TV with you — bound and gagged! NO WAY! She's not agreeing to any gagging business! But she winds up cleave gagged with a bandanna, gagtalking non-stop. Awesome!

You start doing all sorts of naughty things! Your brother eats all the cookies since Natasha can't exactly stop him. You just sit and stare at her lovely soles and tied up toes! Now Natasha is getting angry. She tries to get away, but can't, and has to sit there and watch TV all tied up barefoot and cleave-gagged! She's going on in her constant gag talk chatter, sometimes angry, sometimes bursting into laughter. What a dream come true for you! You're in heaven!

Lots of cute outtakes at the end!
| | |
| --- | --- |
| January 13, 2023 | Beautiful Babysitter Justine Adams Tied Up with Jump Ropes, OTM Gagged, then Stripped Topless, Cleave-Gagged, Carried Off by Dad! (8:20 min) |

January 13 - (8:20 min) REDITED FROM THE 2008 SOURCE TAPES! Beautiful, blonde, barefoot babysitter Justine Adams likes to play your tie-up games! You approach Justine as she sits on the chaise in her miniskirt and a tank top. She asks what game you'd like to play and guesses correctly that you want to tie her up again. Smiling, she agrees to play and holds her hands out for you. Now she's bound hand and foot with jump ropes! She looks so cute like that! Her hands are tied in front, her ankles bound with her gorgeous soles atop the coffee table, sticking right out at for you to stare at!

Your beautiful babysitter wiggles around playfully, with lots of POV-style closeups of her lovely bare feet. But then she begins to call for help, which is your cue to fetch something to gag her with. A white napkin will do the trick! Justine is now OTM gagged and sounding great as she's mmmming behind it! You switch thing up after watching her for a bit. Now her hands are tied behind her back, her feet dangling over the edge of the chaise. Of course, you take up a spot over that to gaze at her beautiful gagged face and perfect soles. Babysitter Justine continues to play along, struggling for your, wiggling her bare feet right into the camera.

Uh, oh! Dad's home! You run downstairs, leaving your barefoot babysitter bound and gagged — and alone. Your Dad, Isaac W., comes in and discovers the tied up babysitter! He pulls her OTM gag down and Justine laughs at her situation. Dad, laughs, too, then he pulls her tank top up. Justine giggles more! She likes her situation and she REALLY likes this Dad! He pulls her gag all the way off, then folds it up and cleave-gags her with it. Justine likes that, too! Then he feels her up and Justine even likes Isaac groping her boobs while she's all tied up. So he picks her up, still bound and gagged, and carries her off to the bedroom for more bondage play!
| | |
| --- | --- |
| January 7, 2023 | Hottie MILF Mommy Natasha Flade Chair-Tied and Gagged 2 Ways in Jean Leggings & High Heels! (FULL HD – 9:50 min) |

January 7 - (9:50 min) NOW IN FULL HD! Shot POV style! It's just like you tied up your own hot mom! Hottie MILF mommy Natasha Flade is playing a tie-up game with her son like she usually does. She's chair-tied in a tight tank top, jean leggings and spiked high heels. Her hands are bound in front, her ankles roped together, and you have her OTM gagged with a soft white scarf. Mom Natasha squirms, wiggles and mmphs like a real damsel in distress because she knows you love watching her play the part!

After a while, Natasha pulls the gag down and announces that your tie-up game is over now. But you want to keep her bound and gagged a little longer! You tell her that you want to tie her up a little differently for a bit. Mom Natasha is surprised. "But you always tie me up this way!" she exclaims. When you persist, mom smiles and agrees. She loves indulging her son! Now she's really, seriously roped to that chair! Her hands are tied crossed behind the chair back, and you've added chest ropes around her boobies. Two lap ropes complete the chair tie and you've turned that over the mouth gag into a thick cleave gag!

Natasha indulges you with lots of gag talk, going on about how she's never been tied up like this before and how impressed she is with your tight rope work! She thinks you must be practicing. (You have been!) But then she decides to set a time limit on your bondage game: five more minutes and not a minute longer! She goes into damsel in distress mode once again for your entertainment. You stare in awe at her sexy high heels wriggling about. And those chest ropes make her boobs really stick out! And she gives you lots of pleading looks with her wide, damsel eyes. HOT!

When the five minutes are more than over, your mom tells you in gag talk that she thinks it's about time you released her, since there's no way she could escape on her own this time! "Oh, don't worry!" she says, smiling through her cleave-gag. "I promise if you let me go right away, you can tie me to the chair again another day. You know I love to play your tie-up games!" Wow! You can hardly wait!
NEXT PAGE